As a platform, our commitment to the markets we serve has always been to provide easy access to digital assets like Bitcoin. On 11 January 2021, card payment options were made available for all Coinhako Singapore users.
Enjoy these benefits when you fund your trades with card payments:
✅ Instant trades
✅ Straightforward trading process
✅ Trade anytime, anywhere
💳 Buy bitcoin and other digital assets now 👉 https://click.coinhako.com/trade-now
With the inclusion of card payments on Coinhako, we firmly believe that this will greatly improve access to digital assets for the hundreds of thousands of Singapore customers we serve, as well as for the rest of the Singapore market.
What you need to know about card payments on Coinhako
1. Why buy crypto with card payments on Coinhako?

To put it simply, it makes access to cryptocurrencies much easier!

Lessen your wait time when you buy cryptocurrencies with a card payment on Coinhako, as buy orders are processed almost instantly and you can skip the queue of waiting for your funds.

Trading with card payments is a seamless trading process! All you will need is to update your card details once on the 'Trade' page, and you will be ready to make a trade at any time.

You can strike while the market is hot 🔥 and avoid missing out on great opportunities amidst the volatility of the crypto market.
2. What type of cards can I use on Coinhako?

Whether it's a Credit or Debit Card, you will be able to use it on Coinhako, as long as they meet the following criteria:

Cards used for payment on Coinhako must be a Singapore issued card, and foreign issued cards will not be accepted.
As of 22 January 2021, cards that are processed by Visa and Mastercard can both be used on the Coinhako platform.


3. How can I add a card to my Coinhako account ?
Go to "Settings"
Under the Account tab, select Credit/Debit cards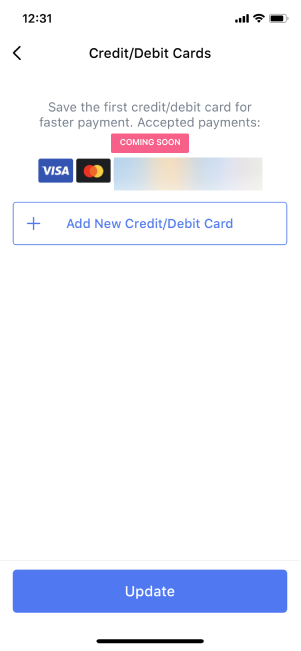 Here are some Frequently Asked Questions (FAQs) that have popped up thus far.
1. I'm unable to add my card. Why is this so?
Coinhako supports VISA and Mastercard cards that are issued in Singapore. If you are using other credit card networks, you will unfortunately not be able to access card payments at the moment. We will be launching support for other major credit card networks very soon, keep an eye out for this!
Check out other available funding options 👉  here
2. What are the fees incurred for a card payment transaction?
Card payments are subjected to 3% fees paid to our third party processor. Fees will be reflected on the Trade page before you execute your trade.
3. Do users get charged in cash advance?
This depends on your card issuer platform and the way they settle transactions. We strongly advise that you contact your relevant card provider for more information on this.
Users can check the supported payment networks on the Trade page prior to confirming a buy order.
4. What is the Merchant Company Code (MCC)?
The Merchant Company Code (MCC) is 6051. The purpose of an MCC is to identify the business in which the merchant is engaged
The MCC is a four-digit number assigned by major credit card networks (e.g VISA or Mastercard) to every business that accepts credit card payments. MCCs are used to identify and categorise the type of business in which the merchant is engaged with.
5. Do I earn miles by using card payments?
This depends on the banking provider used for the transaction, and their treatment of the Merchant Category Code. Do note that various banking providers will have different terms and conditions, and we strongly recommend checking with the respective banking providers for more information.
For a more updated card payment FAQs list 👉 Visit here
As demand for digital assets and cryptocurrencies continue to rise, ensuring access to the market will be key to growing adoption around the world. In addition, to card payments, bank transfers, and other 3rd-party payment providers, we will be looking to add on even more payment options for all our users in the coming months.
Stay tuned to this space for more information!

Click 👉 HERE for instant access to bitcoin and other digital assets with card payments now!
---

📩 Sign-up to Subscribe to our mailing list to have them delivered straight to your inbox!
👉Join our Telegram community
🤔If you have any enquiries, you may contact us here or you can visit our Information Page.
Coinhako is available in these countries!

🚀 Buy Bitcoin at Coinhako Singapore
🚀 Mua Bitcoin Coinhako Vietnam
---
Copyright © Coinhako 2020 All Rights Reserved. Read more on our terms of use of this blog.
All opinions expressed here by Coinhako.com are intended for educational purposes, taken from the research and experiences of the writers of the platform, and should not be taken as investment or financial advice.