After much anticipation, we are thrilled to announce that DAI has made a return to Coinhako!
DID YOU KNOW?
The highly popular Stablecoin was already supported on Coinhako earlier in 2018. DAI was only available for wallet support then, where you can send, receive and store your DAI securely on Coinhako.
As per changes to our support of Stablecoins earlier on 12 August 2020, Stablecoins like USDT and USDC were also no longer available for our Singapore users to trade directly with our currency and token pairings.
With DAI back on Coinhako, our support for stablecoin trading is back for all users without the conversion to USD!
ENJOY THESE DAI SERVICES WHEN YOU TRADE ON COINHAKO!
1. Trade DAI directly with Singapore Dollars (SGD) 🇸🇬


The NEW DAI/SGD trading pair prices DAI against the Singapore Dollar (SGD), and our users will be able to buy & sell DAI when they fund their accounts with SGD through direct bank transfers.

2.  Trade DAI directly with Vietnamese Dong Trading (VNDT) 🇻🇳

The NEW DAI/VNDT trading pair on Coinhako prices DAI against the Vietnamese Dong (VND), and our Vietnam users will be able to buy & sell DAI when they fund their accounts with VND through direct bank transfers.

3. Trade DAI directly with US Dollars (USD) 🇺🇸

The NEW DAI/USD trading pair prices DAI against the United States Dollar (USD), and our users will be able to buy & sell DAI when they fund their accounts with USD with a Stablecoin deposit.
4. DAI Swaps (Crypto-to-crypto trading)
Coinhako users will also be able to trade DAI with other cryptocurrencies that are supported in their countries, with our 'Swap' function.
5. A DAI wallet for all
With the DAI wallet feature, Coinhako users can securely send (withdraw), receive (deposit) and store DAI.
What is DAI?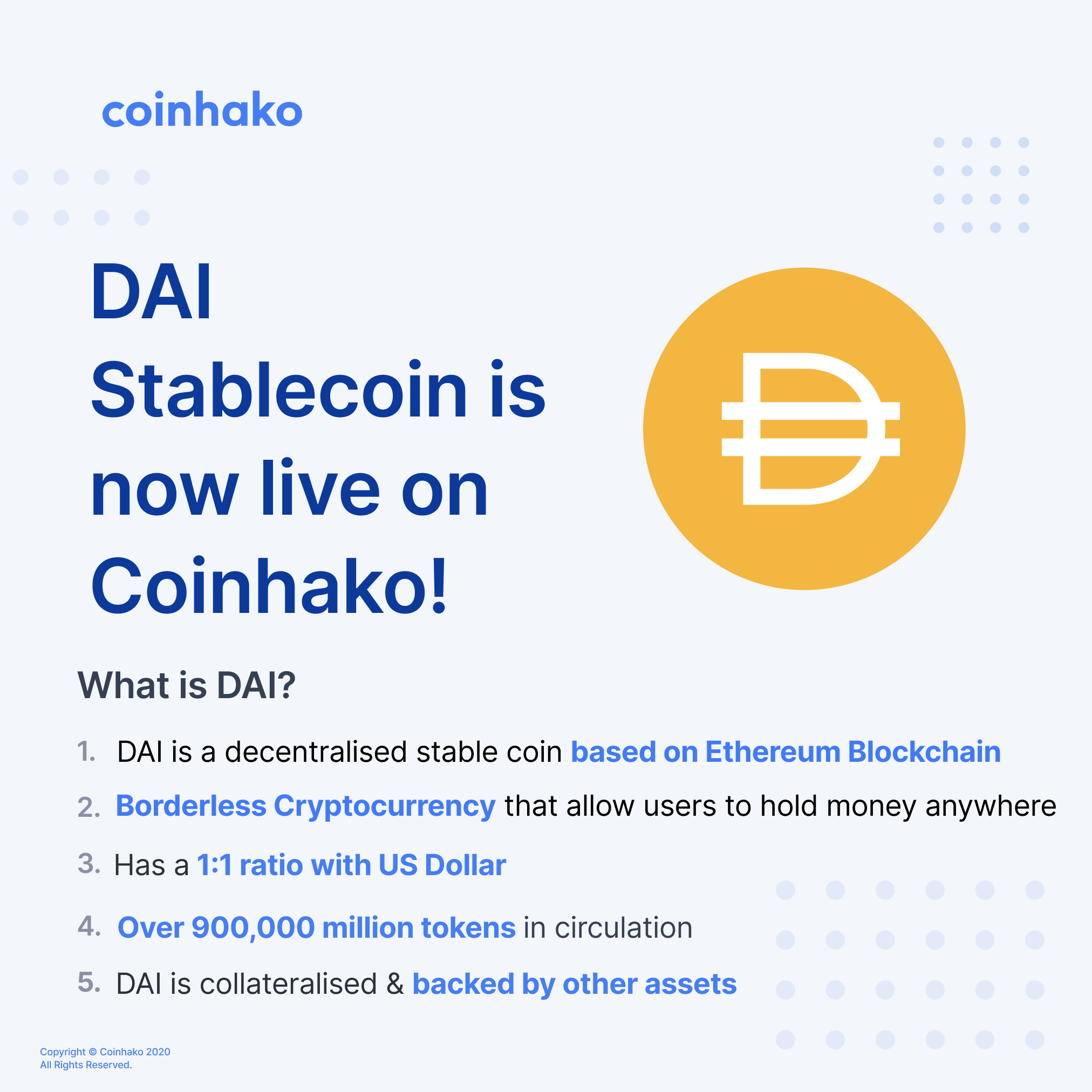 DAI is an ERC-20 stablecoin built on the Ethereum blockchain and is currently the 25th largest cryptocurrency with over $800 million in market capitalisation. Created by MakerDAO, DAI functions as a stablecoin and has been successful in maintaining price stability.

However, DAI is not just another regular stablecoin — unlike its fiat-collateralised counterparts, DAI is soft-pegged to the US Dollar and backed by a surplus in collateral in Maker Vaults.

This is facilitated by its founding platform Maker and MKR token, CDP (collateralized debt position) smart contracts, and several other stabilization mechanisms. During periods of high volatility, DAI users have the option of leaving their funds in crypto without weathering the impact of major price movements.

Apart from its function as a stablecoin, DAI is also popular for yield farming purposes.Yield farming is a process which allows users to "stake" or lock up cryptocurrencies in return for rewards. This has emerged as one of the hottest avenues for earning interest in the crypto and DeFi space.

A relatively new feature on DAI, introduced in Nov 2019, allows users to earn savings automatically when they make a deposit to their Dai savings contract. This interest rate paid to users is also known as the Dai Savings Rate, or DSR.

DAI is trading at $1.01 USD the time of writing.
DAI is available on Coinhako.com, as well as via the Coinhako app for IOS and Android devices.


DAI is trading at the time of writing.Set price alerts for DAI on Coinhako IOS or Android or View Live DAI  prices HERE!
📩 Sign-up to Subscribe to our mailing list to have them delivered straight to your inbox!
👉Join our Telegram community
🤔If you have any enquiries, you may contact us here or you can visit our Information Page.
Coinhako is available in these countries!

🚀 Buy Bitcoin at Coinhako Singapore
🚀 Mua Bitcoin Coinhako Vietnam
---
Copyright © Coinhako 2020 All Rights Reserved. Read more on our terms of use of this blog.
All opinions expressed here by Coinhako.com are intended for educational purposes, taken from the research and experiences of the writers of the platform, and should not be taken as investment or financial advice.