The festive season is here again and we have an exciting line-up of events for you. Read more to find out what you can look forward to this cryptmas!
Win exclusive SHIB and DOGE Merch

In the true spirit of Christmas, we'll be giving 20 lucky users limited edition Coinhako merch.

Pimp your ride with our SHIB car decals, or usher in the holidays in style with our super versatile SHIB t-shirts! Not forgetting Coinhako's HODL keychains which serve as the perfect reminder to keep calm and HODL on.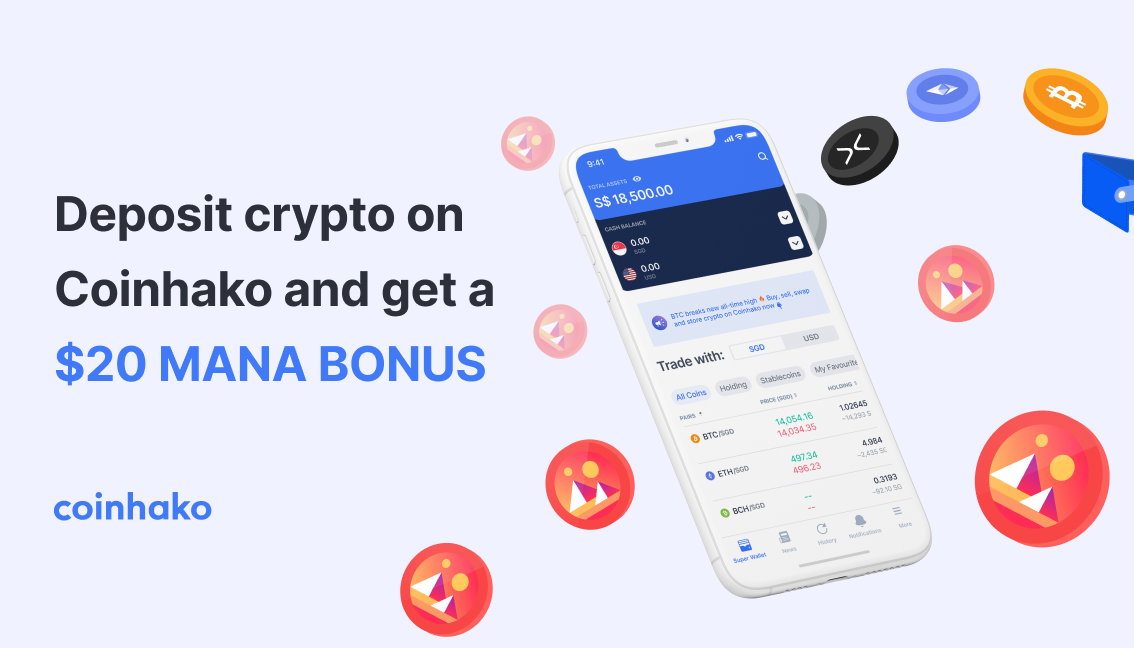 https://blog.coinhako.com/decentraland-mana-bonus-for-crypto-deposits-to-coinhako-from-17-dec-15-jan-2022/
Been wanting to get your hands on Metaverse tokens? We can relate — which is why we're going to give the first 10,000 users who make crypto deposits worth $1,500 SGD or more $20 MANA deposit bonus!

How to qualify

Deposit a minimum of $1,500 in any supported cryptocurrency (USDT & USDC not included) between 17 Dec 2021 - 15 Jan 2022
Make a trade within the first 30 days of deposit
Be among the first 10,000 users to deposit crypto
Earn up to 52,500 SHIB in just a month
Score free SHIB tokens simply by logging into your Coinhako account  — it's really that simple!
With our recent rewards revamp, users will receive SHIB rewards every 3rd and 7th day of their log-in cycle, in alternating amounts of 2500 and 6000 SHIB.
Don't break your streak to score the full amount of SHIB! Find out more about SHIB here.


📩 Sign-up to Subscribe to our mailing list to have them delivered straight to your inbox!
👉Join our Telegram community
🤔If you have any enquiries, you may contact us here or you can visit our Information Page.
Coinhako is available in these countries!

🚀 Buy Bitcoin at Coinhako Singapore
🚀 Mua Bitcoin Coinhako Vietnam
---
Copyright © Coinhako 2021 All Rights Reserved. Read more on our terms of use of this blog.
All opinions expressed here by Coinhako.com are intended for educational purposes, taken from the research and experiences of the writers of the platform, and should not be taken as investment or financial advice.