What is Algorand (ALGO)?
Algorand (ALGO) is an open source permissionless public blockchain based on a pure proof-of-stake (PPOS) consensus protocol—the first of its kind to support the scale, open participation, and transaction finality for billions of users. Backed by a sustainable business and a renowned team of experts, Algorand overcomes the decentralization, security, and scalability barriers that have undermined mainstream blockchain adoption until now.
Algorand was founded by cryptography pioneer, Turing award winner, and Massachusetts Institute of Technology (MIT) professor Silvio Micali. Silvio designed the Algorand platform with an internationally recognized team of researchers, mathematicians, cryptographers, and economists.
Algorand's secure PPOS system allows your ALGO deposit to be available on Coinhako for trading, in only one confirmation - that's only 3 seconds!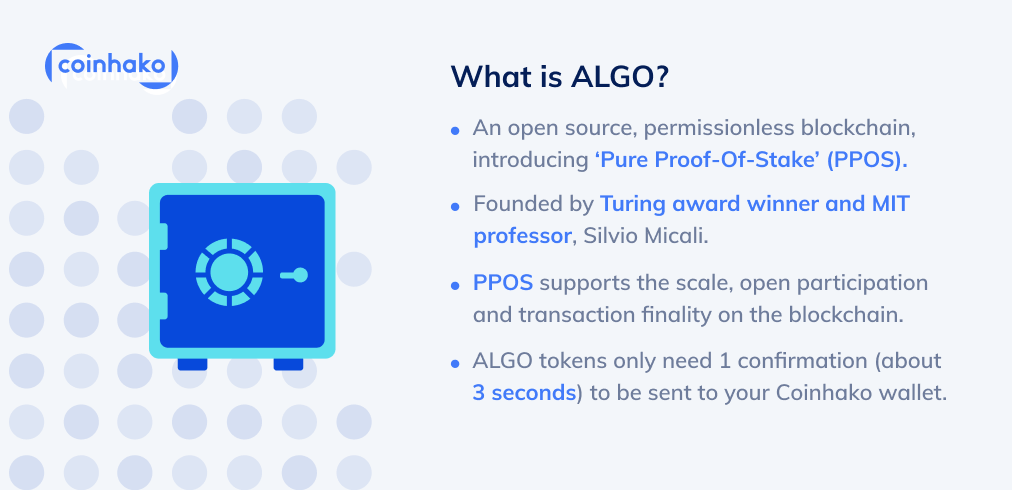 Algorand (ALGO) Facts
Algorand (ALGO) is a world renowned blockchain platform which tokens were first distributed in June 2019. At this time of posting, ALGO ranks at number 66 amongst all blockchain digital tokens, with a market capitalization of ~US$102 million and priced at US$0.8 (~S$1.09) per token.
A total of over 100 million ALGOs are currently in circulation and the total supply of ALGOS is 10 billion.
Steps to use your ALGO Coinhako Promo Code

1. Login to Coinhako.com
2. Click on your name at the top right hand corner.
3. Click Promotions
4. Key in these promo code (based on your registered Country of Residence).
Singapore users: 30ALGOSGOFF
Vietnam users: 30ALGOVNOFF
Indonesian users: 30ALGOIDOFF
What's new?
With this release, we provide the renowned Algorand platform with new ALGO token pairings, namely:
1) ALGO & Singapore Dollar (SGD) pairings
2) ALGO & Indonesian Rupiah (IDR) pairings
3) ALGO & Vietnamese Dong Tether (VNDT) pairings
The addition of Algorand (ALGO) on Coinhako platform brings our total number of token pairings, tradeable with fiat currencies to 31 on Coinhako. ALGO tokens can also be traded with all other 30 support tokens with the Coinhako Swap function
Other ALGO services
Coinhako users will also have an ALGO wallet where they can Send, Receive and Store ALGO tokens.
ALGO trading, sending and receiving is all fully supported on Coinhako Android, IOS as well as Coinhako Web.
Coinhako is very excited to have added support for Algorand and provide ALGO tokens with these new Southeast Asian currency pairings, as we seek accelerate access to blockchain technology in Singapore, Indonesia, Vietnam and the rest of the Greater Asia-Pacific.
---
👀Remember to visit our blog for the latest updates, or
📩 Subscribe to our mailing list to have them delivered straight to your inbox!
*The information presented in this article does not constitute investment advice and is purely for educational and/or informational purposes.
👉Join our Telegram community
🤔If you have any enquiries, you may contact us here or you can visit our Information Page.
New to Coinhako?
Coinhako is available in these countries!

🚀 Buy Bitcoin at Coinhako Singapore