Whether you're a crypto OG or just kickstarted your crypto journey, chances are you want to know how well your digital assets perform.
If you've expended the efforts to look for crypto PnL trackers to manage your assets, we've got good news for you — from now on, you'll be able to track your crypto holdings on Coinhako seamlessly within the app itself.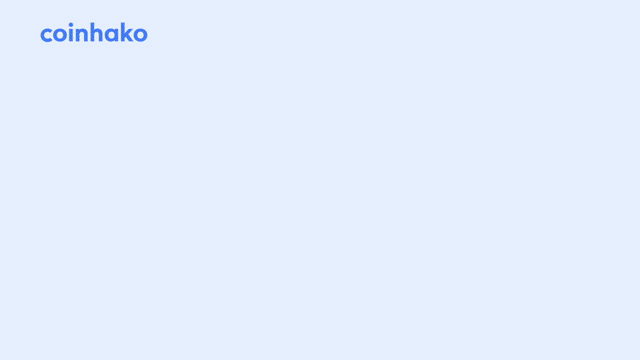 Managing your crypto portfolio

You've probably come across the old adage, "Never put all your eggs in one basket".

To hedge against volatility and manage risks, many crypto traders put their money in various cryptocurrencies, including top cryptocurrencies like Bitcoin and Ethereum, NFTS (for the brave), and altcoins and stablecoins.

Instead of managing their crypto portfolios manually, most people turn to digital trackers to help them take stock of their crypto holdings.

Using a crypto portfolio tracker can help you monitor your performance over time and track price changes in real time.



What can you do with Portfolio on Coinhako?
View the allocation of your assets
What kind of crypto trader are you? Do you like to play it safe with Bitcoin and Ethereum, or are altcoins more up your alley?
With Portfolio, you'll be able to see the allocation of all the digital assets you hold on Coinhako - presented neatly in a donut chart, with percentage breakdowns to keep things nice and organized.
This nifty feature can help you determine whether you've been allocating too much of your budget into a specific crypto and will hopefully inform better trading decisions in your future.
PS. Check out Recurring Buys if you want to dollar-cost-average the smart way.

Monitor the current market value of your portfolio
Want to know how much your current holdings are worth? Portfolio allows you to view the real-time value of your digital assets, so you always know how much you're worth.
Track portfolio performance over time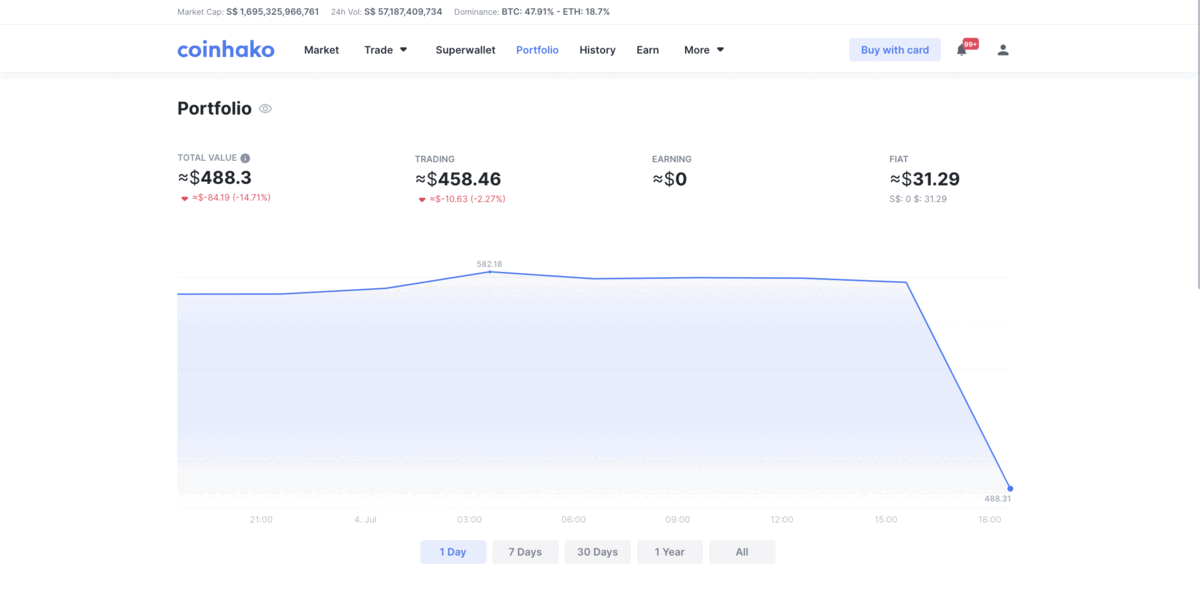 You've bought so many different kinds of cryptocurrencies across different periods (if you want to purchase crypto at fixed schedules, we recommend trying Recurring Buys) - so how do you know if you're overall seeing red or green?

Portfolio allows you to track performance over 7-day, 30-day, 1-year periods, or all-time, providing an easy way to check your trading vitals whenever you log in.
View the average purchase price of your assets
Tired of manually calculating your average purchase?

If you've bought crypto a couple of times over the years, it's likely that you would have acquired them at different prices - no surprise there, since crypto can be pretty volatile.

Portfolio helps you calculate the average purchase price of each digital asset, which is useful in helping you determine whether you're reaping positive returns on your crypto trading efforts, and empowering you to make better-informed trading decisions.



What's next for Portfolio
We know most of you are using Coinhako on iOS and Android devices, which is why our team is working hard to make Portfolio available on the app as soon as possible.

The team is also looking to enhance the current offerings for Portfolio, so keep your eyes peeled for a fresh suite of advanced additions to the Portfolio page, which will empower you to make better trading decisions



Disclaimer: All writers' opinions are their own and do not constitute financial advice. As a company, we do our best to provide information that is accurate and valuable. The contents of this blog post are intended for educational purposes only. Individuals are advised to perform due diligence before purchasing any cryptocurrencies as these assets are subject to high volatility, and understand the risks associated with trading cryptocurrencies.
👉 Join us on Telegram and Instagram
🤔 For any queries, please reach out to us here, or visit our Help page.
Copyright © Coinhako 2023 All Rights Reserved. Read more on our terms of use of this blog. All opinions expressed here by Coinhako.com are intended for educational purposes, taken from the research and experiences of the writers of the platform, and should not be taken as investment or financial advice.