1. How To Get Started on Bitcoin and Other Digital Assets at Coinhako


Create a Coinhako Account

Start by setting up an account on www.coinhako.com. When creating your Coinhako account, it is important to use your legal name (as reflected in your NRIC or identity document), as this will greatly speed up the verification process.

All transaction alerts, password reset emails, and key updates will also be communicated via email - so make sure you register with an inbox that you check regularly!


Protect Your Account with Two-Factor-Authentication

In today's technological age where online data is so vulnerable, it just makes sense to have an extra layer of protection for your Coinhako account.

What you'll need:
Authenticator app of your choice
Coinhako account


To set up your 2FA, you will first need to have access to an authenticator app. You can easily download such applications via the App Store of Google Play store for free.



Google Authenticator or Authy are among the most popular choices, but other authenticator apps should work just as well.

Click on your name displayed on the Superwallet screen
Select "Two-Factor Authentication" from the drop-down menu
Select the option "Setup 2FA".

Click HERE for a full guide on setting up two-factor authentication.



We believe in the importance of building a safe and accountable platform for everyone. By getting to know our customers better, we can build a better platform for all!

Our Know-Your-Client processes are automated and take no more than a few minutes of your time.

Here is a brief step-by-step process on how to complete the verification process.

To begin verifying on the Web,  you should click on your name on the upper right corner of the screen. From the drop down menu, select "Identity Verification."

To begin verifying on mobile, you should select "Settings" on the bottom right of your screen.

Step 1: Verify Your Phone Number

Select your country of residence and enter your phone number. You will receive a 6-digit code via SMS to confirm your number. Enter this 6 digit code and click submit, before proceeding to Step 2!

Step 2: Verify Identity

For this step, you will need to take a photo of your identity document. Accepted documents include the following:


For Singaporeans

NRIC
11B
Government Service Card
You should take a picture of both the front and back of your identity document. Instructions will be displayed on the screen to guide you along the way!

Step 3: Complete The Questionnaire
Complete a simple and straightforward questionnaire to help us get to know you better! This will include profiling questions and your responses will be kept confidential.
Step 4: Submit Proof of Address
As Coinhako currently caters to the Singapore and Vietnam market, we'll need you to submit documents as proof that you are residing in Singapore.
For a more seamless verification process, simply sync up your Coinhako account with MyInfo.


Coinhako offers both SGD and USD trading. Currently, customers in Singapore can fund their trades on Coinhako with SGD, via three seamless funding options.


Fund your Coinhako wallet by making a direct SGD deposit. Deposits are cleared daily at 10AM and 4PM, and have been the most popular choice among our users.

Clear instructions on how to make a deposit can be found on the Super Wallet screen, by clicking on the SGD wallet then the green "Deposit" button.

To ensure a smooth deposit process, please read all instructions very carefully and make sure that the unique deposit code is entered correctly.

For more information about SGD deposits, please view this support article.


Haven't funded your wallet but want to buy bitcoin urgently?

With the recent surge in market demand for digital assets, we have recognised the need to upgrade our payment rails to enable an even more seamless experience for users — especially in a market when time is of the essence.

Users with Singapore-issued cards may now enjoy even easier access to bitcoin and other digital assets, as we have started accepting card payments on our platform.

Simply add your credit or debit card to your Coinhako account to start on Bitcoin and other digital assets!

View our Card Payments FAQs here.


3. Xfers Direct


You cour Coinhako SGD wallet without leaving the platform with Xfers Direct. Receive SGD deposits to your Coinhako wallet in a matter of minutes with FAST transfers.

Do note that each transfer is capped at $20,000 and will incur a 0.55% fee charged by Xfers.


For more information about Xfers Direct, please click HERE.



4. How to Trade on Coinhako
Superwallet
Get started on the Superwallet page, which displays our wide range selection of digital assets at a glance. On this screen, you will find live buy and sell prices of each digital asset. Toggle with the SGD/USD button to view the prices in different currencies.



Coin Details


Want to know how bitcoin prices have been performing in recent weeks? Tap on any digital asset, like bitcoin, to access the coin details screen. On this page, you will see live price charts of your selected coin.

On the same screen, you proceed to Buy, Sell, Swap, Send or Receive coins.

Set Price Alerts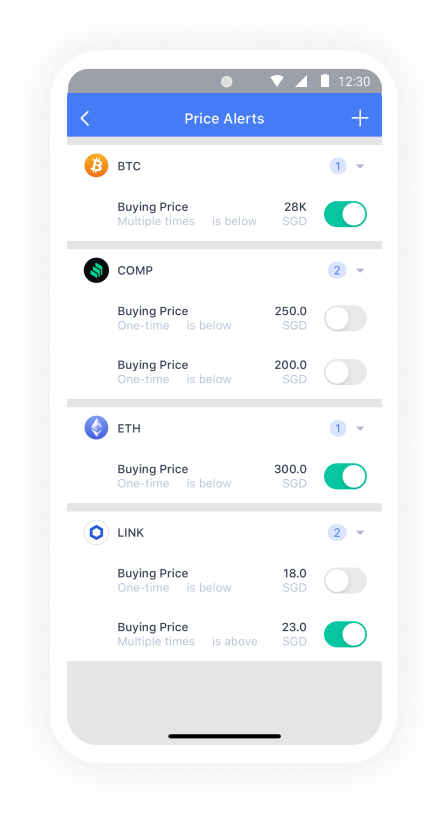 We monitor the market so you don't have to. Crypto is extremely volatile, and it can be difficult to keep up with dynamic market movements.

Set up custom price alerts and get notified every time prices reach a certain threshold. Never miss a trade again!


iOS and Android Mobile Widgets



Keeping an eye on live crypto's prices has never been easier - with Coinhako mobile widgets, you can track your favourite cryptos seamlessly by simply adding the widget to your home screen.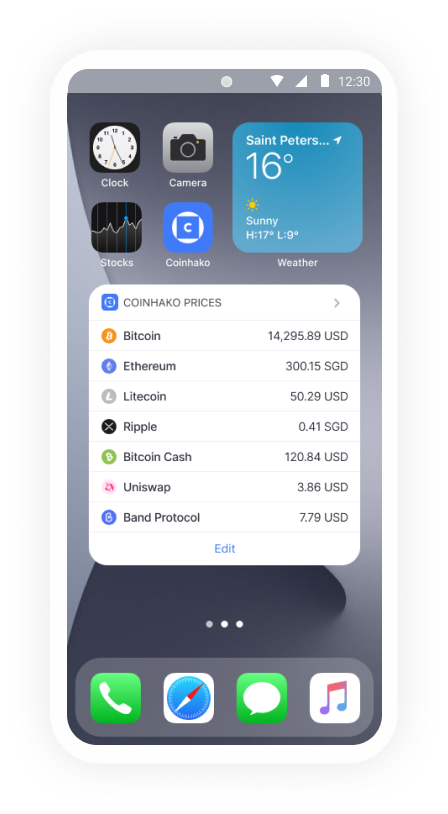 Daily Login Points

We value the support of each and every Coinhako user, and want to reward you for trading with us!

Earning FREE crypto on Coinhako is as easy as logging in daily to get points. Get 10 points for every login via Coinhako Web and DOUBLE the rewards when you log in using the mobile app. Consecutive logins also accumulate up to grant you multiple points.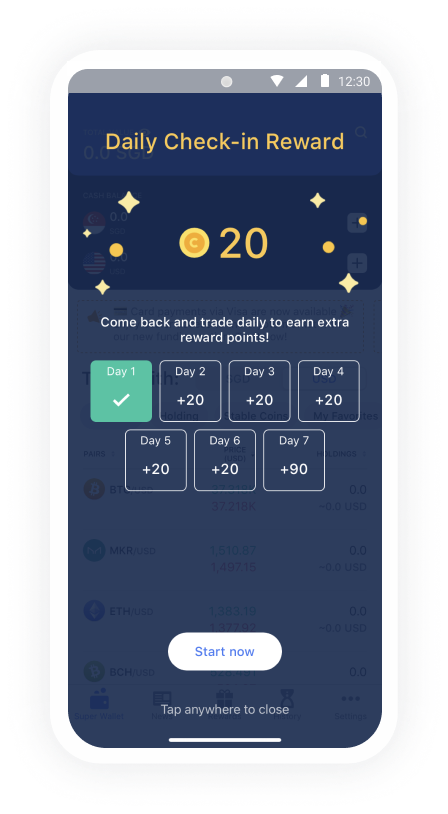 Multiply your points by achieving 7 consecutive logins!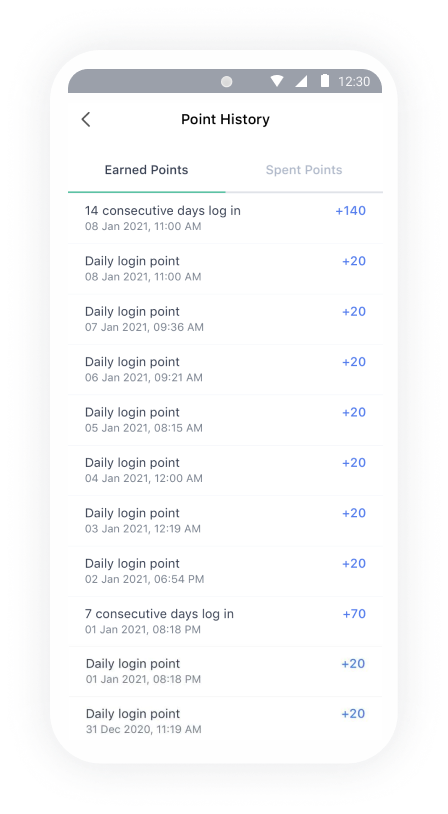 These points can then be exchanged for exciting crypto rewards and attractive trading discounts.


Rewards as of January 18, 2021


2. Refer and Earn

The Refer and Earn programme is another indirect way to get free crypto. Refer your friends and get paid 20% of trading fees in real-time whenever your referred friends buy, sell or swap tokens.



We believe that to maximise market conditions, it is important to keep up to date with the latest news.

One of our main platforms to keep you informed is through our mailing list. Coinhako emails include but are not limited to:

Token Releases - Updates on new tokens that are listed on the platform
Bi-weekly Newsletters - Information on current giveaways or promotions, any significant market movements, Coinhako related news or relevant Coinhako blog articles
User Communication Updates - Notifications on scheduled Maintenance for specific tokens or the platform and any changes that will impact user experience

Subscribe to our mailing list here.  


Apart from email, other avenues for getting Coinhako updates include:

📩 Telegram - Latest updates ranging from Giveaways to Morning News Catch-up

📝 Blog - Articles that are timely and relevant to happenings in the crypto space

📰 Crypto News - Related News conveniently situated in the Coinhako app below Coin Details

Information Page - Support page that breaks down information into basics and uses a step by step guide to facilitate user's most frequent inquiries.

Social Media Channels - Informative and engaging content that is condensed into bite-sized pieces.

Check out these channels and drop us a follow!
💼 LinkedIn
👥 Facebook
💬 Twitter

Watch this space for more updates!
---

📩 Sign-up to Subscribe to our mailing list to have them delivered straight to your inbox!
👉Join our Telegram community
🤔If you have any enquiries, you may contact us here or you can visit our Information Page.
Coinhako is available in these countries!

🚀 Buy Bitcoin at Coinhako Singapore
🚀 Mua Bitcoin Coinhako Vietnam
---
Copyright © Coinhako 2021 All Rights Reserved. Read more on our terms of use of this blog.
All opinions expressed here by Coinhako.com are intended for educational purposes, taken from the research and experiences of the writers of the platform, and should not be taken as investment or financial advice.