🔥Yes, you heard it right! All Coinhako Singapore users can now trade Bitcoin and all supported cryptocurrencies (except stablecoins) in 🇺🇸US Dollars.

This update brings the availability of another fiat currency, in addition to the 🇸🇬Singapore Dollar, for our Singapore users to trade cryptocurrencies at Coinhako.
Fund your account to trade in USD with these simple steps!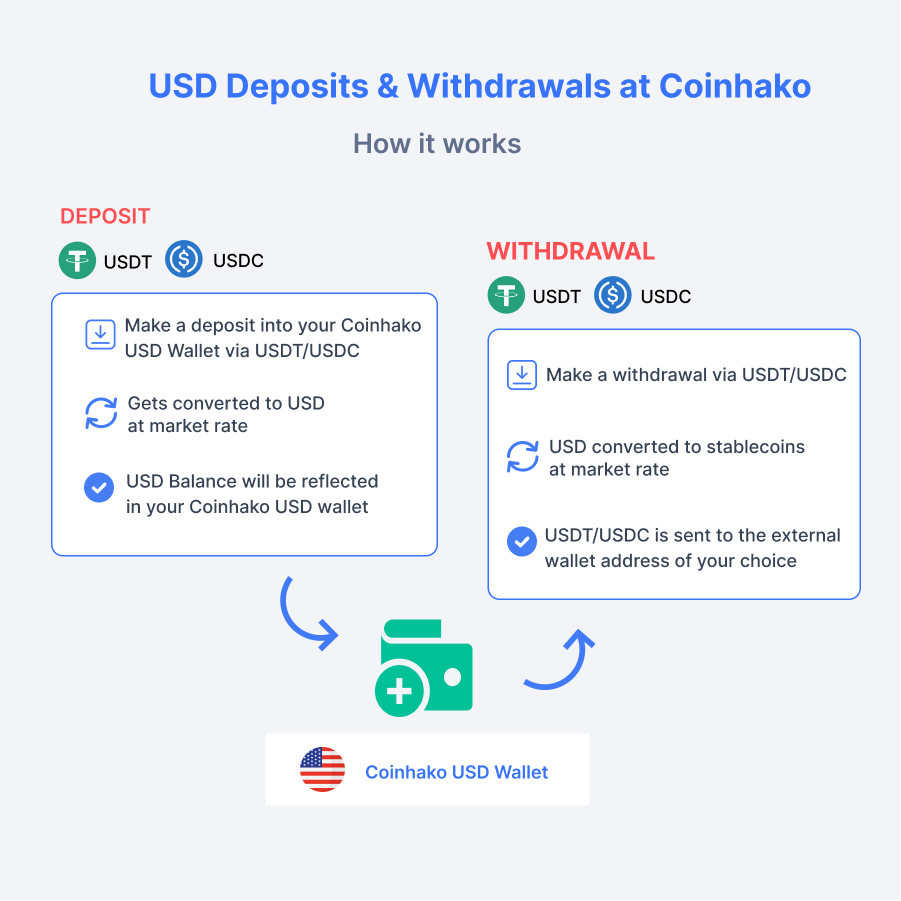 1. Deposit any supported USD Stablecoin.
USD Coin (USDC)
Tether USD (USDT)

Our system will credit the sent tokens as USD to your USD Coinhako wallet.
2. Buy and Sell any supported cryptocurrency with your USD balance, at Spot Pricing.

Withdrawing USD

Making a USD withdrawal is just the reverse of the deposit process, and you can send it out to any USDT or USDC wallet address of any supported USD Stablecoin.

***Please note that USD bank transfers are not available.

Does Coinhako still support USD stablecoins?
Yes, Coinhako will continue to support USDT and USDC. We have updated the way we support these tokens on our platform to align with regulatory requirements.
What will happen to my remaining USDT/USDC balance on Coinhako?
As per the announcement made on 30 July 2020, all USDT and USDC will be converted to USD at a 1:1 rate on 12 August 2020; This means that you will receive 1 USD for every 1 USD stablecoin (USDT or USDC) from this initial conversion.
Where is my USDT/USDC balance?
Your deposited USDT/USDC amount will be converted into USD and reflected in your Coinhako USD wallet.
What is the conversion rate for USD Stablecoins to USD?
After the initial 1:1 conversion on 12 August 2020, all USD Stablecoins will be converted at real-time market rates.

**Please note that the rate is not fixed, and is subjected to market fluctuations.

Prior to completing any USD deposit or withdrawals, you will be directed to a page which will display the estimated conversion rate for the transaction, and for your confirmation.
What are the fees to deposit / withdraw USD?


USD Deposits: No fee
USD Withdrawals: 6.5 USD per transaction
** Withdrawals will incur a small network fee which might vary on Ethereum network conditions. These network fees are not paid to Coinhako – they are paid to miners and nodes who broadcast your transaction onto the blockchain.

Are there any limits to trade or transact in USD?

Yes, please note that the following limits are applicable for USD transactions on Coinhako.

Trading

Minimum amount to buy crypto with USD: 23 USD (~30 SGD) per transaction
Minimum amount to sell crypto to USD: 30 SGD per transaction

Deposits and Withdrawals

Minimum deposit amount : 15 USDC/USDT
Minimum withdrawal amount: 23 USD
Can I still buy/sell USDT/USDC?

Trading with USDT/USDC on Coinhako will no longer be available.

Trading directly with the US Dollar on the other hand, should more or less incur a similar exchange rate with other cryptocurrencies.
We thank you for your continued support thus far and believe these updates will elevate your cryptocurrency trading experience on Coinhako. Watch this space for exciting features and updates that are in the pipeline!
---

*The information presented in this article does not constitute investment advice and is purely for educational and/or informational purposes.
📩 Sign-up to Subscribe to our mailing list to have them delivered straight to your inbox!
👉Join our Telegram community
🤔If you have any enquiries, you may contact us here or you can visit our Information Page.
Coinhako is available in these countries!

🚀 Buy Bitcoin at Coinhako Singapore
🚀 Mua Bitcoin Coinhako Vietnam
---
Copyright © Coinhako 2021 All Rights Reserved. Read more on our terms of use of this blog.
All opinions expressed here by Coinhako.com are intended for educational purposes, taken from the research and experiences of the writers of the platform, and should not be taken as investment or financial advice.