What is VET?

VET is a native ERC-20 token on the VeChain network. VET is used as a form of currency on the network, and serves a way to maintain value on the VeChain Thor public blockchain.

Ranked #22 among cryptocurrencies, VET hit its ATH of $0.27 on April 17, 2021. VET has a circulating supply of 64,315,576,989 VET coins and a max. supply of 86,712,634,466 VET coins.



At the time of writing, VET is trading on Coinhako for $0.09 USD.


How does the VeChain (VET) work?

Founded in 2015, the VeChain network is known as the VeChainThor public blockchain.
VeChain is a supply chain platform powered by blockchain technology, and is one of the platforms which offers most value for business use. It aims to leverage on distributed governance and Internet-of-Things (IoT) technology to provide solutions to existing problems faced in supply chain management.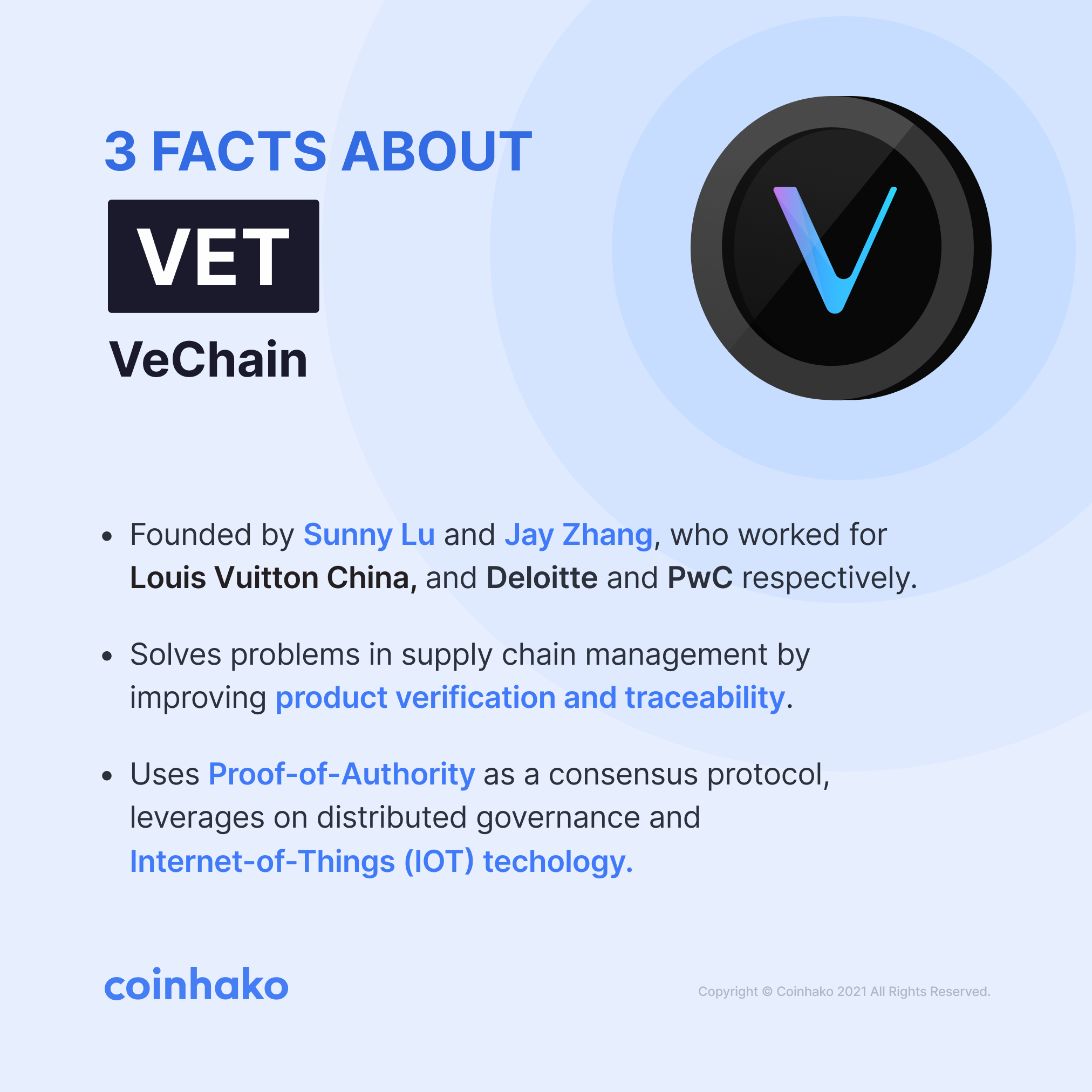 VeChain (VET) was co-founded by Sunny Lu, former CIO of Louis Vuitton China, and Jay Zhang, an industry professional in the finance and risk management sectors. Zhang previously worked at Deloitte and PriceWaterHouseCoopers.

While VET is a Proof-of-Stake token, the VeChainThor blockchain uses Proof-of-Authority as a consensus protocol. This means that votes are awarded according to the amount of VET holdings one has and disclosure of information. VET holders who have provided Know-Your-Client credentials account for a larger percentage of all votes.

VeChain is also known for processing transactions at a faster speed. Unlike Bitcoin, VeChain uses less power, and does not require a minimum number of validators to reach consensus.

VeChain (VET) Use Cases

Supply Chain Management

VeChain can be used to advance supply chain management. Supply chain vendors can leverage on the VeChain platform to track quality, authenticity, storage temperature, transportation medium and last-mile delivery of items.

This means that every step of the supply chain is accounted for, via RFID tags and sensors and that broadcast important information onto the blockchain network. The data on the blockchain is immutable,and thus cannot be tampered with.


Health Records

Blockchain technology has long been recognised for its potential use in healthcare, and VeChain is already getting started.

In Jan 2021, the Mediterranean Hospital of Cyprus had begun storing their COVID-19 vaccination records on VeChain. Digital vaccination certificates are also available on their E-HCert App, an electronic wallet powered by the VeChain Thor Blockchain.


How to Buy Vechain in Singapore?
1. VET/ SGD Pairings on Coinhako: Trade VeChain (VET) in Singapore Dollars (SGD) 🇸🇬
With VET/SGD trading pairs available on Coinhako, our Singapore users will be able to buy & sell VET in Singapore Dollars (SGD) when they fund their accounts with SGD.
2. VET/VND Pairings on Coinhako: Trade VeChain (VET) Vietnamese Dong Trading (VNDT) 🇻🇳
With VET/VND trading pairs available on Coinhako, our Vietnam users will be able to buy & sell VET when they fund their accounts with VND.
3. VET/USD Pairings on Coinhako: Trade Vechain (VET) directly with US Dollars (USD) 🇺🇸
The VET/USD trading pair  prices against the United States Dollar (USD), and our Singapore users will be able to buy & sell VET when they fund their accounts with USD.
4. VET swaps (Crypto-to-crypto trading)
Coinhako users will also be able to trade VeChain with other cryptocurrencies that are supported in their countries, with our Swap function.
5. Get the latest VET price news on Coinhako 🚨
As with every other supported token on Coinhako, we endeavour to update our users on key news about each project through our various channels.
The Coinhako platform also features a News Feed section where you will be able to receive all the latest updates on VET Token, alongside on the other top crypto projects, like uniswap, polkadot, band protocol.
5. VET wallet for all (COMING SOON )
With the wallet feature, Coinhako users can securely send (withdraw), receive (deposit), and store VET.
6. Buy VET instantly with debit and credit card
Beat the deposit queue and buy VET instantly when you pay by card.
---
📩 Sign-up to Subscribe to our mailing list to have them delivered straight to your inbox!
👉Join our Telegram community
🤔If you have any enquiries, you may contact us here or you can visit our Information Page.
Coinhako is available in these countries!

🚀 Buy Bitcoin at Coinhako Singapore
🚀 Mua Bitcoin Coinhako Vietnam
---
Copyright © Coinhako 2021 All Rights Reserved. Read more on our terms of use of this blog.
All opinions expressed here by Coinhako.com are intended for educational purposes, taken from the research and experiences of the writers of the platform, and should not be taken as investment or financial advice.