If you're both a Coinhako and GrabPay user, we've got fantastic news for you — score lower trading fees when you fund your trades with GrabPay!

Use GrabPay to score 30% off Coinhako trading fees plus a chance to win SHIB

From 31 March 2022 to 30 April 2022, Coinhako Singapore users who make 2 trades on Coinhako using GrabPay will receive 5 discounted trade vouchers, each of which can be used to offset 30% off trading fees. Users who make 5 trades will receive a total of 10 discount trade vouchers. Each trade made must be worth 200 SGD and above in order to qualify for this promotion.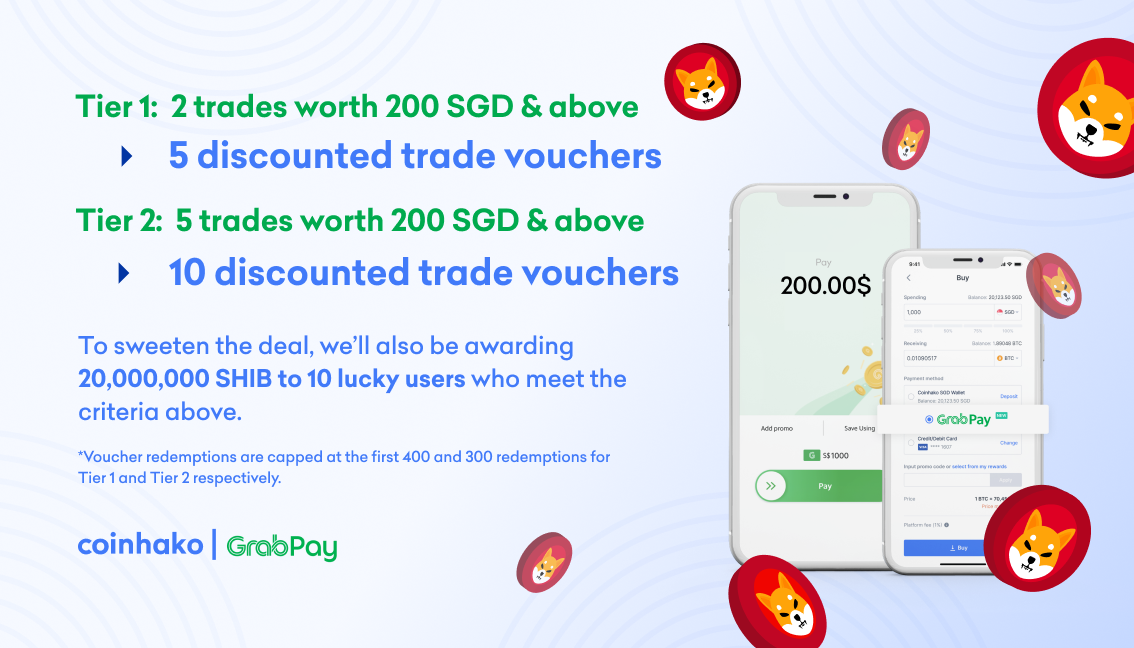 All you have to do is:

Make at least 2 trades worth 200 SGD & above on Coinhako using GrabPay
Like either our Facebook or Instagram post and tag a friend

*Tier 1: Make 2 trades worth 200 SGD and above each
*Tier 2: Make 5 trades worth 200 SGD and above each

Terms and Conditions:
⭐️You must have a verified Coinhako account to qualify for this giveaway.
⭐️Only Coinhako accounts created on or before 31 March 2022 are eligible for this giveaway.
⭐️This giveaway is open to all who are currently residing in Singapore.
⭐️This giveaway will conclude on 30 April 2022, 2359 (SGT). All entries submitted after the closing date will not be considered.
⭐️Coinhako reserves the right to amend the terms and conditions of the giveaway without prior notice.
⭐️The total prize pool is 20,000,000 SHIB to be distributed among 10 winners. Each winner will receive 2,000,000 SHIB each.
⭐️No. of trades are non-stackable. If a user qualifies for the higher tier, they will get a total of 10 discounted trade vouchers only.
⭐️Vouchers are limited to the first 400 to complete 2 eligible trades and the first 300 to complete 5 eligible trades.
⭐️ Discounted trade vouchers will give users a 30% discount off their trade fees, and will be awarded to users after the end of the campaign period, valid for 10 days from the issuance date.

Disclaimer: All writer's opinions are their own and do not constitute financial advice. As a company, we do our best to provide information that is accurate and valuable. The contents of this blog post are intended for educational purposes only. Individuals are advised to perform due diligence before purchasing any cryptocurrencies as these assets are subject to high volatility, and understand the risks associated with trading cryptocurrencies.

📩 Sign-up to Subscribe to our mailing list to have them delivered straight to your inbox!
👉 Join our Telegram community
🤔If you have any enquiries, you may contact us here or you can visit our Information Page.
---
Copyright © Coinhako 2021 All Rights Reserved. Read more on our terms of use of this blog.
All opinions expressed here by Coinhako.com are intended for educational purposes, taken from the research and experiences of the writers of the platform, and should not be taken as investment or financial advice.