Can you distinguish between a scam message and a legitimate one?
If you've selected any of the above, which part of the post made it seem legitimate to you?

Truth is, none of these are our official accounts.

These are just a few screenshots of the countless impersonators we've encountered who have viciously preyed on unsuspecting victims in the past. (Check explanations at the bottom of the page)

Over the years, we have taken many measures to ensure these fraudulent accounts do not interact with our users. But many crypto scams go beyond just social pages.

Want to steer clear of scams? Here's a nifty guide on the steps you can take to keep your crypto safe.
1. Always verify
The first step of steering clear of scams is to make sure you're only interacting with official, legitimate accounts. Online fraudsters will often attempt to create accounts that look very similar to the official brands, so do be extra vigilant — and don't let the lure of big bucks cloud your judgement.


These are Coinhako's official social channels:

Telegram: @CoinhakoOfficial
Instagram: @coinhako_official
Tiktok: @coinhako_official
Twitter: @coinhako
Facebook: @coinhako, verified with a blue tick

We update our list of channels frequently, and we neither own nor are associated with any other accounts besides these listed ones.

2. Avoid sending crypto and providing personal information


For giveaways

We run giveaways to give back to our users and thank them for supporting Coinhako — we'll never ask you to send us funds.

Always verify that the account asking for your information is an official Coinhako channel. You may do so by clicking on the account and cross-checking the account handle with the ones listed above (1). On Facebook, just look out for the blue tick to be sure!


How to tell a fraudulent account apart from a real one, you ask? For starters, our team will never:

Ask you for a "registration fee" or even ask you to sign up for a membership account.

Ask you to transfer us any money be it crypto/fiat, in exchange for rewards.


For support
Many scammers pose as technical support and get your information via this tactic. For any issues encountered, you can email us at hello@coinhako.com or submit a ticket at https://help.coinhako.com/portal/en/home

General Advice
Never share your private key or the seed phrase to your cryptocurrency wallet with anyone. Anyone with this information can retrieve all your assets in just a click.

3. Double check links before clicking on them

Here are our official site links:
coinhako.com
help.coinhako.com
blog.coinhako.com

Our shortener for our social media links is click.coinhako.com/

Any other links should be avoided, as it may contain malicious software that may pry for sensitive and private information.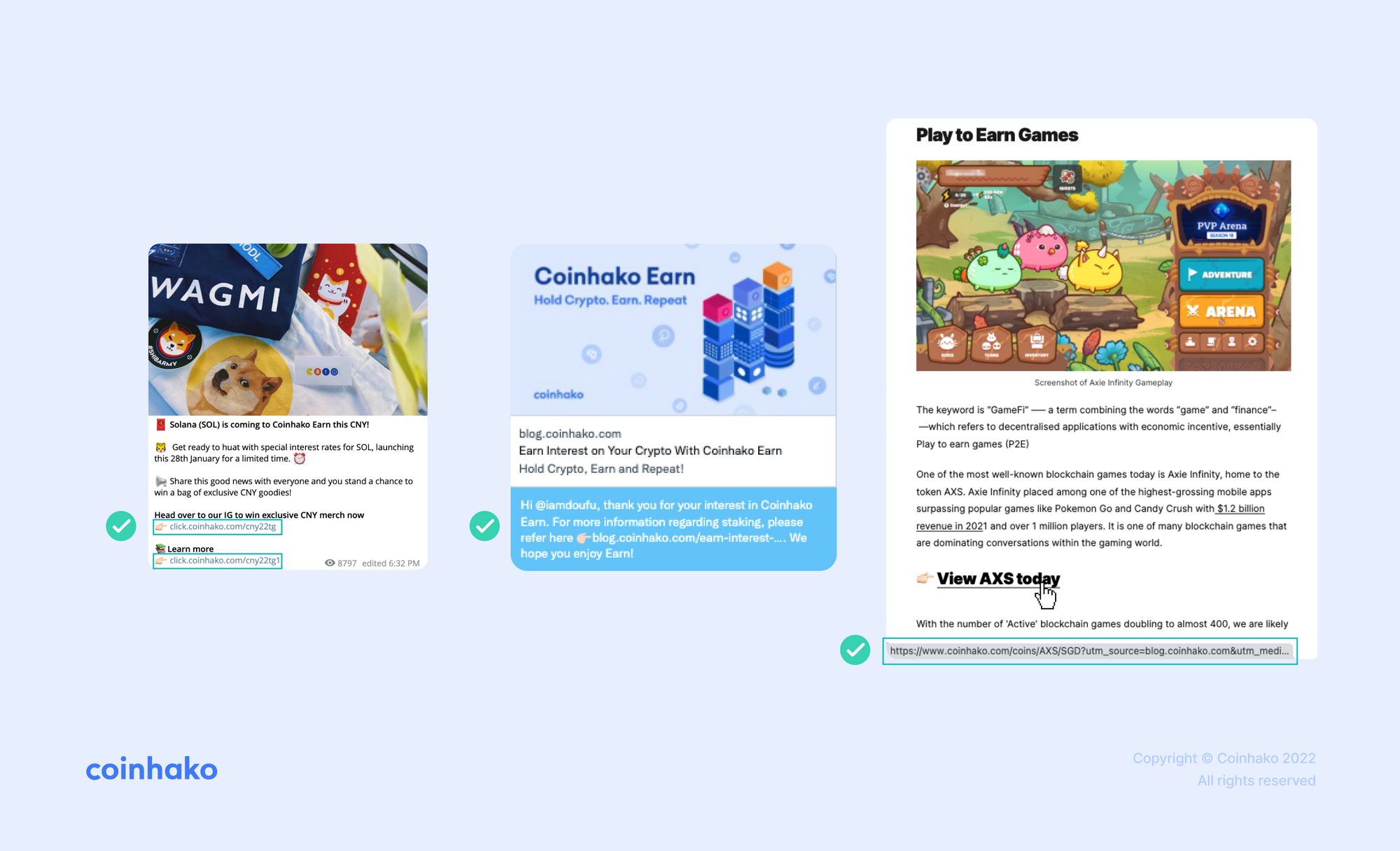 4. Be cautious when participating in online giveaways

It's better to be safe than sorry!

We always ensure that all of our giveaways/promos information will have a catered post found within our blog (blog.coinhako.com), so when in doubt just scroll through our blog posts to verify the legitimacy.  


The old adage "if its sounds too good to be true, it probably is" applies to situations like these, and you should always err on the side of caution.
5. Don't answer calls/reply to text messages

If you get calls/text messages from unknown numbers or contacts who aren't stored in your phone, avoid answering them.

To stay extra safe, consider installing apps such as ScamShield, which help block unsolicited messages and calls.
6. Beware of suspicious emails

Refrain from opening any attachments in a phishing email as they may contain requests for information or may contain links to viruses.

Our official email is hello@coinhako.com and any other email addresses posing as Coinhako should not be entertained.

7. Report the fake accounts

If you've come across these kind of accounts, alert the right people by hitting that "report" button. This will help the respective platforms identify accounts pretending to be someone else, and help prevent other users from falling prey to fraud.
How To Report

Facebook:
Go to the profile of the fake account you want to report
Click on the three dots on the top right-hand corner of the account's page
Go to 'Find support or report page'
Choose 'Scams and fake pages'
Select 'Pretending to be another business'
Search for 'Coinhako'
Click Done.
You can also proceed to block them.


Instagram:
Click on the three dots on the top right-hand corner of the account's page
Click 'Report'
Go to 'Report account'
Select 'It's pretending to be someone else'
Choose 'Someone I Know' (We are still working on being verified on Instagram for ease of verification on our users side)

8. Protect yourself by enabling two-factor authentication (2FA)

2FA comes in the form of a six-digit code, generated by an external authenticator application.

Using email addresses and passwords are necessary, but they are sensitive and vulnerable to attacks by third parties. With 2FA, there is an added layer of security to keep these malicious actors out while ensuring your information remains protected.

**Explanations why none of the choices are correct
A: We will never ask you to send crypto to a specific address.
B: Our Coinhako Facebook account has a verified check mark.
C: We don't have a second Instagram.
D: We will never DM you first for any giveaways/promotions.
Disclaimer: All writer's opinions are their own and do not constitute financial advice. As a company, we do our best to provide information that is accurate and valuable. The contents of this blog post are intended for educational purposes only. Individuals are advised to perform due diligence before purchasing any cryptocurrencies as these assets are subject to high volatility, and understand the risks associated with trading cryptocurrencies.

📩 Sign-up to Subscribe to our mailing list to have them delivered straight to your inbox!
👉 Join our Telegram community
🤔If you have any enquiries, you may contact us here or you can visit our Information Page.
---
Copyright © Coinhako 2021 All Rights Reserved. Read more on our terms of use of this blog.
All opinions expressed here by Coinhako.com are intended for educational purposes, taken from the research and experiences of the writers of the platform, and should not be taken as investment or financial advice.