Singapore may be considered a fairly safe city, but we are certainly not immune to cybersecurity threats — no matter how tech-savvy we think we are.

Cryptocurrency users need to navigate the digital space with great caution. The irreversible nature of cryptocurrencies make crypto scams particularly painful — because more often than not, you will not be able to retrieve your tokens or funds.

One of the most popular channels that scammers tap on to reach users is Telegram, a cloud messaging app that is widely popular among Singaporean users.
What does a Telegram scam look like?
As the security of your funds and data on our platform is a priority, here is a list with some of the more common scam attempts that all Coinhako users might encounter.
Scammers posing as Company Admins
1.Customer support and official news from coinhako will only be delivered via the following channels:
2.Our official hello@coinhako.com email address
3.Tickets raised through our official support portal
4. Our official Telegram announcement channel
5.Emails that are registered with a @coinhako.com domain
Any other forms of communication, no matter how legitimate they may seem, are NOT official.
If anyone messages you on Telegram, contacts you via email, SMS, phone calls or other messaging channels , claiming to be a Coinhako admin or support staff, you should avoid responding to them.

And remember, admins will NEVER PM you first!


Coinhako account upgrade/unlock fees
TLDR: Coinhako currently does not offer any "premium" or "account-upgrade" schemes for users. The only fees that you will incur are the 1% flat trading fee and withdrawal fees, which are automatically deducted from your Coinhako balance.
We will NEVER ask you to send us cryptocurrencies or any other currencies for fees. Read the details below to ensure that you never fall prey to these cryptocurrency scams on Telegram:
We DO NOT charge users any fee for:
1.Account unlocks
2. Fiat deposits
3. KYC approval
4.Sending/cancelling any pending transactions
5. Or any other services not stated
Investment and Mining Scams


This particular scam tactic has recently infiltrated the social media space as well, becoming even more prevalent after the onset of Covid-19. Ever seen shady "investment pitches" in the Facebook comments section about making it rich with Bitcoin in x number of hours?

They usually look like this:


If it's too good to be true, it probably is.
There is a growing number of fly-by-night online services that claim to guarantee a profit via trading, mining, or some other investment service.
The cybercriminals behind these schemes will either take your money and run, or use it to facilitate some form of a ponzi/multi-level marketing scheme.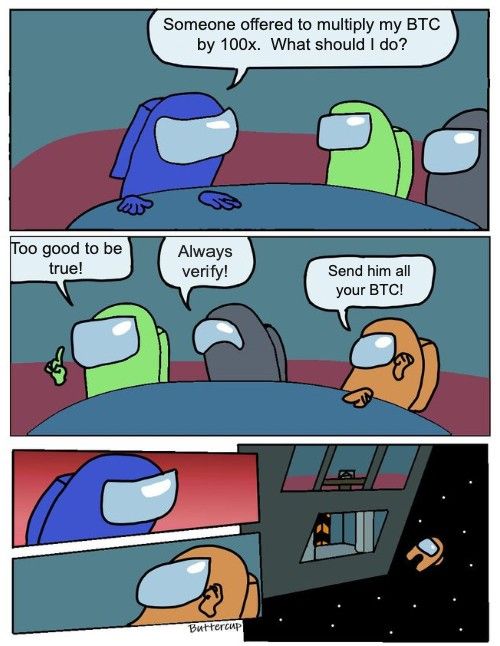 We strongly advise against sending funds to anyone claiming guaranteed and instant profits. You should only trade on trusted and reputable platforms , such as Coinhako, and always run a due diligence check on any platform(s) before using its services.
Moral of the story? Always verify!

Now that you know what a potential telegram hoax looks like, the next step is to make sure you're as digitally secure as possible  to better ensure the security of your tokens and funds!

To maintain better cyber hygiene, ask yourself these 4 questions.


1. How do I know I'm clicking on the right links?
Many companies might use URL shorteners or subdomains to interact with audiences. This leaves room for link manipulation by bad actors.
As of June 2020, we phased out the use of external short URLS and will only share URLs which include our primary domain.
Click HERE for a broader range of cybersecurity tips.
2. Is this email legit?
Phishing is a form of social engineering and has become one of the most popular ways to extract data from unsuspecting online users. Take note of key red flags such as the odd-looking sender domains and incorrect sentence structure and grammatical errors- for example, hello@coinhak0.com, hello@coinhacko.com are all illegitimate domains trying to pass off as Coinhako.
3. Does the site I'm visiting have an SSL Certificate?
A Security Sockets Layer (SSL) certificate is a digital certificate that helps to authenticate the identity of a website and encrypts information sent to the server using SSL technology.  If the connection to the site is secure, a padlock icon should appear on the left next of your address bar.

4. Have I set up 2-Factor Authentication (2FA)?
Whether it's One-time Password (OTP) SMS, Time-based 2FA tokens, or a Physical 2FA token, you will find the majority of platforms offering some form of 2FA today.
Setting up 2FA is simple . All you need is a free authenticator app which will prompt you with a 6 digit code every time you need to verify entry to any account.
How to set up 2FA for my Coinhako account? Find out HERE
A little extra effort comes a long way in protecting your data, funds, and your overall well-being.

---
📩 Sign-up to Subscribe to our mailing list to have them delivered straight to your inbox!
👉Join our Telegram community
🤔If you have any enquiries, you may contact us here or you can visit our Information Page.
Coinhako is available in these countries!

🚀 Buy Bitcoin at Coinhako Singapore
🚀 Mua Bitcoin Coinhako Vietnam
---
Copyright © Coinhako 2021 All Rights Reserved. Read more on our terms of use of this blog.
All opinions expressed here by Coinhako.com are intended for educational purposes, taken from the research and experiences of the writers of the platform, and should not be taken as investment or financial advice.