What is HBAR?


HBAR is the native currency of the Hedera Hashgraph network. Ranked  #61 among cryptocurrencies, HBAR has a fixed supply of 50 billion HBAR. HBAR hit its ATH of $0.4495 on Mar 15, 2021 and is currently ranked #63 amongst all cryptocurrencies. At the time of writing, HBAR is trading on Coinhako for $0.275 USD.

HBAR serves dual functions, and is used to power decentralised applications (dApps), and gate-keep bad actors from the network.

HBAR as Network Fuel: Hedera developers use HBAR to pay for network services like the transferring of HBARs and management of fungible and non-fungible tokens.

HBAR as Network Protection: HBAR is also staked on Hedera's proof-of-stake network, to weigh votes on transactions when reaching consensus. This helps protect the bad actors, by making it challenging and expensive for them to negatively impact consensus.



How does Hedera Hashgraph Work?

Developed in 2016 by Dr. Leemon Baird and Mance Harmon, the Hedera Hashgraph network aims to achieve three core objectives —  performance, security and fairness.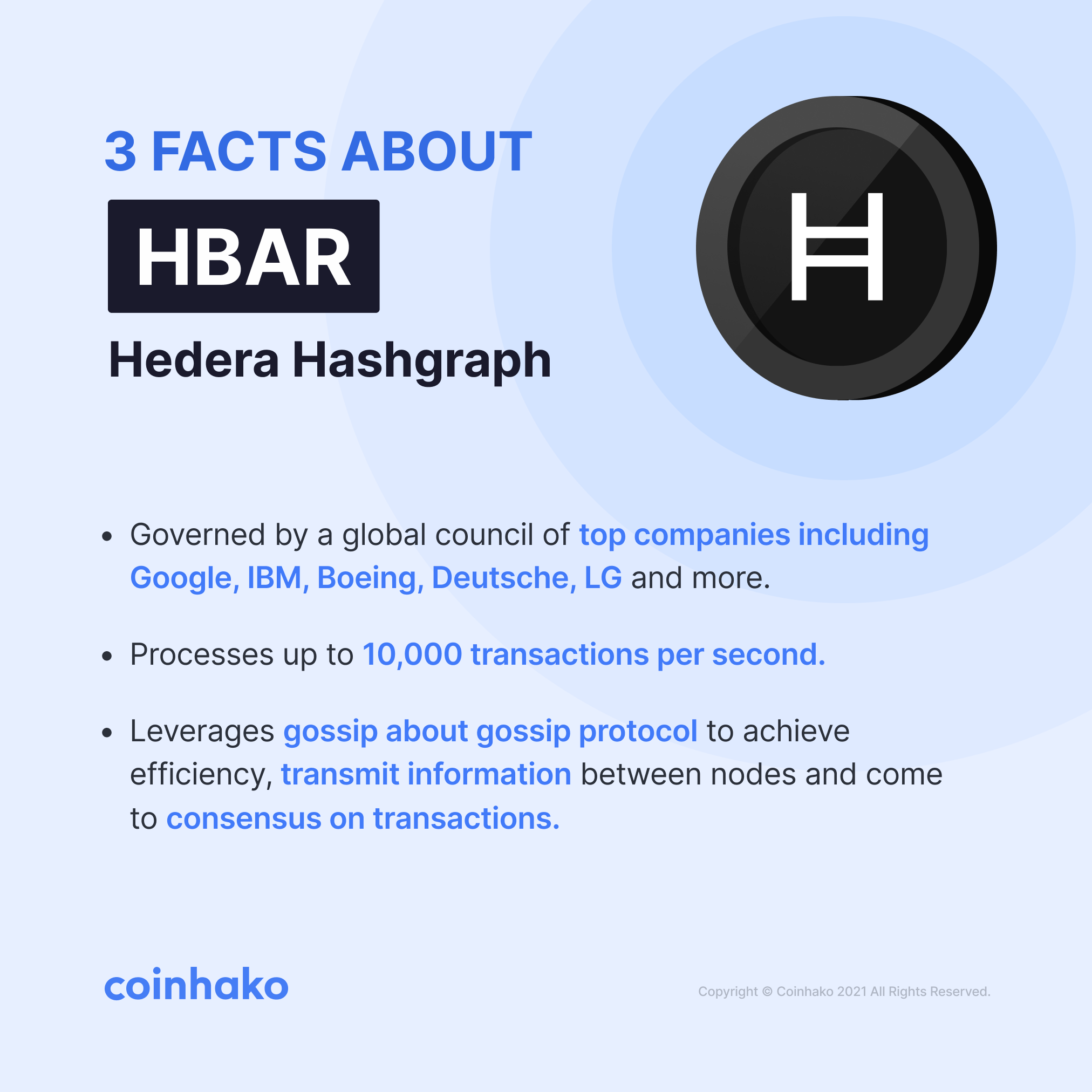 Hedera Hashgraph is the only system that uses the hashgraph algorithm, and is governed by a global council consisting of top MNCs like Google, IBM, Boeing, Deutsche, Telekom, LG and more.

The Hedera Governing Council

The network runs on a proof-of-stake consensus algorithm, using a concept known as gossip about gossip. Without reliance on energy-intensive This allows for an efficient and quick spread of information between nodes involved in the network. The synchronization of information is stored as a data structured containing a timestamp, an array of zero or more transactions, two parent hashes and a cryptographic signature.
What makes Hedera Hashgraph different from Bitcoin and Ethereum?

🏃‍♂️ Speed: The Hedera Hashgraph network has a pretty impressive transaction speed. The network can process up to 10,000 HBAR transactions per second —ln lightning speed when compared against Bitcoin's ~4.6 transactions per second.

💰Lower Fees: Transaction fees on the network cost next to nothing - it costs only $0.001 USD per transaction, and these costs are not contingent on network conditions.  


In addition to these, Hedera Hashgraph also promises top-notch security, using an **asynchronous byzantine fault tolerance, achieving consensus with 100% finality.

📚**Asynchronous byzantine fault tolerance (ABFT):   a property of Byzantine fault tolerant consensus algorithms, which allow for honest nodes of a network to guarantee to agree on the timing and order of a set of transactions fairly and securely.


HBAR Use-Cases

With its potential to scale, and robust protocol in place, Hedera Hashgraph opens up several possibilities for real-world use-cases.

HBAR use-cases include payments, tokenized assets, and even fraud mitigation. These potentially extend to game purchase authentication, car title authentication, and more.
Developers can also leverage on the Hedera Token Service to build apps that improve payment efficiency, financial services, supply chain and energy and sustainability.



What's New with Hedera Hashgraph (HBAR) on Coinhako?
1. Trade HBAR directly with Singapore Dollars (SGD) 🇸🇬
With HBAR/SGD trading pairs available on Coinhako, our Singapore users will be able to buy & sell HBAR in Singapore Dollars (SGD) when they fund their accounts with SGD.
2. Trade HBAR directly with Vietnamese Dong Trading (VNDT) 🇻🇳
With HBAR/VND trading pairs available on Coinhako, our Vietnam users will be able to buy & sell HBAR when they fund their accounts with VND.
3. Trade HBAR directly with US Dollars (USD) 🇺🇸
The HBAR/USD trading pair HBAR prices against the United States Dollar (USD), and our Singapore users will be able to buy & sell HBAR when they fund their accounts with USD.
4. HBAR swaps (Crypto-to-crypto trading)
Coinhako users will also be able to trade Hedera Hashgraph with other cryptocurrencies that are supported in their countries, with our Swap function.
5. Get the latest HBAR  price news on Coinhako 🚨
As with every other supported token on Coinhako, we endeavour to update our users on key news about each project through our various channels.
The Coinhako platform also features a News Feed section where you will be able to receive all the latest updates on HBAR Token, alongside on the other top crypto projects, like uniswap, polkadot, band protocol.
5. HBAR wallet for all (COMING SOON )
With the wallet feature, Coinhako users can securely send (withdraw), receive (deposit), and store HBAR.
6. Buy HBAR instantly with debit and credit card
Beat the deposit queue and buy HBAR instantly when you pay by card.