What is MATIC?

MATIC is the native token of the Polygon network. Ranked #15 among cryptocurrencies, MATIC  hit its ATH of $2.68 on May 18, 2021.

Users within the Polygon ecosystem use the MATIC ERC-20 tokens as a form of payment. Transaction fees on polygon sidechain are also paid in MATIC tokens.

At the time of writing, MATIC is trading on Coinhako for $1.66 USD.


How does the Polygon (MATIC) Network Work?

Polygon is a protocol and framework for building and connecting Ethereum-compatible blockchain networks. Priding itself as a protocol built by developers, for developers, Polygon seeks to improve scalability for decentralised applications (dApps), and enhance performance, user experience and security. Polygon aims to solve limitations faced by the Ethereum network - such as low throughput, high gas fees, and lack of sovereignty.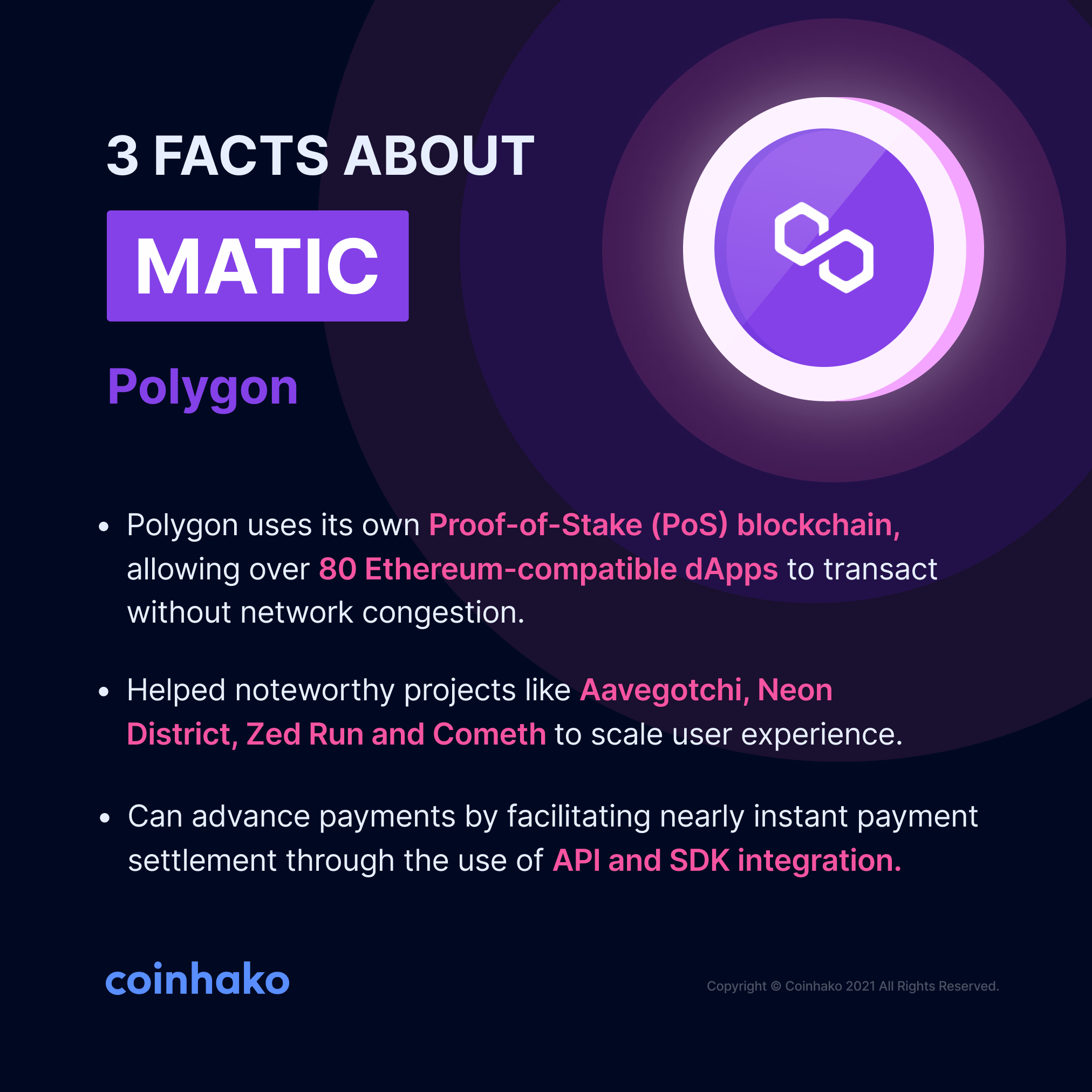 To achieve this, Polygon uses its own Proof-of-Stake (PoS) blockchain, which serves as a commit chain to the Ethereum mainchain. This allows more than 80 Ethereum-compatible dApps to transact without network congestion.

The polygon network also offers a suite of scalable solutions including ZK Rollups, Optimistic Rollups, Standalone Sidechains, Matic Pos/ Plasma Chains, Shared security chains, Enterprise chains.

Polygon (MATIC) Use Cases

Polygon's scalability opens up a world of dazzling possibilities when it comes to use-cases.

For starters, the Polygon network will be able to advance payments in a substantial way — by facilitating nearly instant payment settlement through the use of API and SDK integration.

Lending platforms, which have gained considerable traction lately, will be able to leverage on Polygon solutions as well. Polygon is working on a mechanism that will enable merchants to analyse credit ratings of users who have registered for the platforms, by reviewing their transaction history.

Polygon (MATIC) and NFTs/Games

Polygon's architecture has a hand in powering the NFT space. Aavegotchi, a defi-based crypto collectibles game, and other projects like Neon District, Zed Run and Cometh are leveraging Polygon along to scale user experience.


What's New with Polygon (MATIC ) on Coinhako?
1. MATIC / SGD Pairings on Coinhako: Trade Polygon (MATIC) in Singapore Dollars (SGD) 🇸🇬
With MATIC/SGD trading pairs available on Coinhako, our Singapore users will be able to buy & sell MATIC in Singapore Dollars (SGD) when they fund their accounts with SGD.
2. MATIC/VND Pairings on Coinhako: Trade Polygon (MATIC) Vietnamese Dong Trading (VNDT) 🇻🇳
With MATIC/VND trading pairs available on Coinhako, our Vietnam users will be able to buy & sell MATIC when they fund their accounts with VND.
3. Trade MATIC directly with US Dollars (USD) 🇺🇸
The MATIC/USD trading pair prices MATIC against the United States Dollar (USD), and our Singapore users will be able to buy & sell MATIC when they fund their accounts with USD.
4. MATIC swaps (Crypto-to-crypto trading)
Coinhako users will also be able to trade MATIC with other cryptocurrencies that are supported in their countries, with our Swap function.
5. Get the latest MATIC price news on Coinhako 🚨
As with every other supported token on Coinhako, we endeavour to update our users on key news about each project through our various channels.
The Coinhako platform also features a News Feed section where you will be able to receive all the latest updates on MATIC Token, alongside on the other top crypto projects, like uniswap, polkadot, band protocol.
5. MATIC wallet for all (COMING SOON )
With the wallet feature, Coinhako users can securely send (withdraw), receive (deposit), and store MATIC.
6. Buy MATIC instantly with debit and credit card
Beat the deposit queue and buy MATIC instantly when you pay by card.
---
📩 Sign-up to Subscribe to our mailing list to have them delivered straight to your inbox!
👉Join our Telegram community
🤔If you have any enquiries, you may contact us here or you can visit our Information Page.
Coinhako is available in these countries!

🚀 Buy Bitcoin at Coinhako Singapore
🚀 Mua Bitcoin Coinhako Vietnam
---
Copyright © Coinhako 2021 All Rights Reserved. Read more on our terms of use of this blog.
All opinions expressed here by Coinhako.com are intended for educational purposes, taken from the research and experiences of the writers of the platform, and should not be taken as investment or financial advice.