What's is 'May the Fourth', and what's it got to do with Star Wars ?
Every year on 4th May, the Star Wars fandom celebrates Stars Wars Day - the phrase May the Fourth is a wordplay on George Lucas' franchise's popular catchphrase, May The Force Be With You.

Find out which crypto you are based on the traits of your favourite star wars character!


1.Luke Skywalker: Polkadot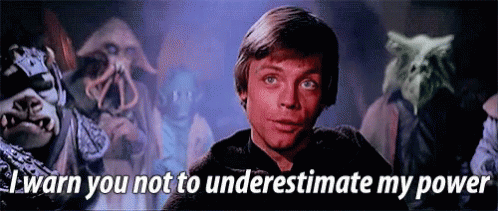 In many ways, Polkadot draws close parallels to the main protagonist of the Star Wars series, Luke Skywalker. Much like how Luke Skywalker is Darth Vader's son, Polkadot was founded by one of Ethereum's co-founders, Gavin Wood.

The Polkadot blockchain protocol integrates multiple blockahins into one network, by allowing arbitrary data to be sent across many parachains.

In the true spirit of Luke Skywalker, who helped to uphold peace in the galaxy while the New Republic defended remnants of the empire, Polkadot keeps the network honest and transparent by incentivizing users via staking, which rewards good actors and punishes dishonest users.

2.Darth Vader: Ethereum
Heralded as the leader of the Dark Side, the formidable Darth Vader was one of the greatest Jedi the galaxy has ever known.

Just like Darth Vader who was a Jedi before falling to the dark side, Ethereum was incepted to build and improve on the bitcoin network, effectively disrupting the (jedi) order of things and creating a new protocol which now hosts a variety of decentralised applications.

3.R2D2: ADA
For the uninitiated, R2D2 is an astromech droid that fought alongside Darth Vader in the Star Wars: The Clone Wars (2008). He's also lauded as the smartest among the drioids.

If R2D2 is your favourite Stars Wars character, you'll be intrigued by ADA - as adaptable as R2D2, ADA is adept at keeping up with trends in the crypto space and evolving its network to accommodate market demands.

ADA's most notable development was its recent shift to complete decentralisation, achieved on 31 March 2021. The network also expressed its interest in supporting the development of NFTs and NFT marketplaces in future.

4. Yoda: SOL

Probably one of the most legendary - and well-loved- Star Wars characters. A legendary Jedi Master, Yoda is small in size but wise and powerful.

Solana, like Yoda, may be fairly young still in the realm of cryptocurrencies, but has already introduced many features that will pave the way for better scalability. These include proof-of-history (PoH) consensus, and its hybrid protocol allows for reduced validation times for transactions and smart contracts.

5.Han Solo: Bitcoin


Since his first appearance in the first instalment of Star Wars, Han Solo has clinched his spot of one of the greatest protagonists in the series.

Being the first digital currency ever, Bitcoin has always had a bit of a rebellious streak. Just like how Han Solo believed in galactic freedom, Bitcoin introduced a decentralised, peer-to-peer network that enables the transfer of funds, in a verifiable manner.

Similar to Han Solo, who faced a slew of obstacles after the Battle of Endor, Bitcoin has overcome any challenges and undergone hard forks. These roadblocks, however, haven't hindered the top cryptocurrency by market cap from seeing astronomical growth in 2021 and constantly breaking new price highs.

6.Emperor Palpatine: XRP
You either hate or love him - there is no in-between. Emperor Palpatine, AKA Darth Sidious, was the scheming head honcho who built the Imperial Military, one of the most powerful forces in the galaxy.

Just like Emperor Palpatine, much controversy still surrounds XRP - especially with its recent brushes with the SEC. Despite this, XRP demonstrated its majestic recovery capabilities when it saw tremendous gains in mid-April.

Emperor Palpatine versatility - in undertaking roles as Jedi, Chancellor of the Republic, and later the empire, mirror XRP's usability.
7. BB8: Dogecoin

Of course we didn't forget Dogecoin —  possibly the most adorable cryptocurrency there is in the market right now.

Fans of the robo-companion would find that he exhibits very similar traits to a pet dog - its amusing and cute actions make him a very popular character among fans.

Both BB-8 and Dogecoin may be cute on the surface, but don't underestimate their power - just look at how Dogecoin prices have skyrocketed after Elon Musk's recent tweets about the digital currency.

8. Kylo Ren: UNI
Kylo Ren, one of the main antagonists of the series, was one of Luke Skywalker's most prized students. Though initially trained to be a Jedi, he was soon lured to the dark side. As the Supreme leader of the First Order, an organization that branched out from the Galactic Empire, Kylo is highly revered in the Star Wars Series.

Kylo lovers will find similarities in UNI, which reigns supreme when it comes to DEXs (decentralised exchanges). The UNI token also rebels against the idea of centralisation, by awarding governance rights to UNI holders.

9.  Rey: LUNA
Rey's quick rise in popularity as the newest, and last Jedi is similar to Luna's skyrocket to fame. The token recently gained major traction, noting substantial gains in the month of March.
Similar to how Rey is versatile in her abilities as a mechanic, pilot, and combatant, LUNA places high emphasis on usability and price stability.
Are your Star Wars and Crypto Holdings aligned?