If your grand plans for 2020 were derailed by the global pandemic, you're not alone.

2020 may have unfolded in an unexpected way for most, but it hasn't hindered the crypto space from having one of its most epic years ever. Regulatory support, coupled with wider adoption and institutional interest in cryptocurrency, has made the year a highly volatile and dynamic one for the crypto landscape.

Q1 2020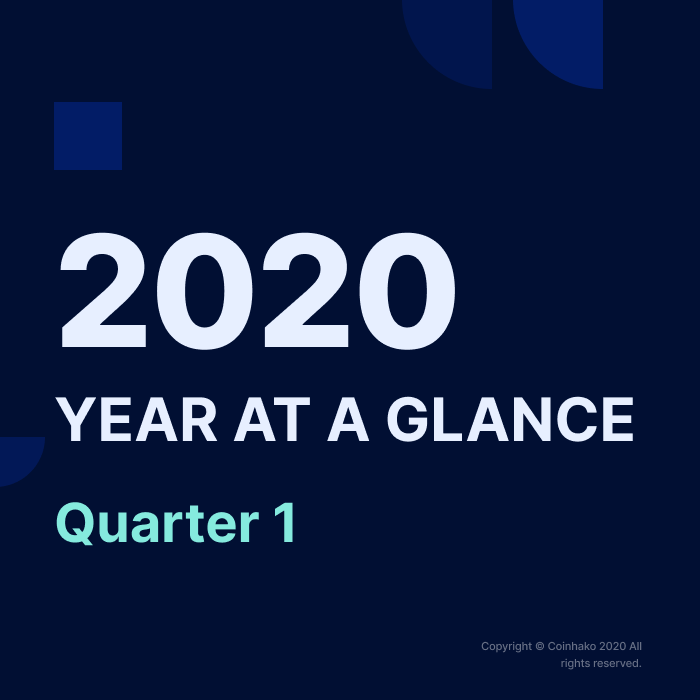 In January, the local fintech landscape was abuzz with conversations surrounding local regulations in Singapore.
The most prominent and notable frameworks included the Payment Services Act and Digital Banking License, which sought to regulate fintech providers while creating a conducive environment for business innovation.

1.Payment Services Act

The Payment Services Act (PS Act), which commenced on the 28 January 2020, is an omnibus framework which regulates businesses involved in the areas of account issuance, domestic money transfers, cross-border money transfers, merchant acquisition, e-money issuance, digital payment tokens, and money changing.

The framework was implemented to put fintech providers under the purview of local regulators to achieve better customer protection, while adopting a friendly and forward-thinking approach to new technologies.

2. DeFi breaks $1 Billion Total Value Locked (TVL)
DeFi crossed a new milestone with its total value locked surpassing $1 Billion USD, a cause for celebration for the Ethereum community.

3.Bitcoin Crosses $10K for first time in 2020

After hovering around the $9K mark in January, Bitcoin finally crossed $10K for its first time on Feb 15, 2020.

Why was $10K such a big deal?  

Members of the bitcoin community have latched onto the $10,000 psychological threshold as a signal or indicator of price action. Some believe that if bitcoin can cross — and hold above the $10K mark, it points towards a positive trend for bitcoin prices.

Others believe that the $10K price level signifies that a substantial amount of capital has been pumped into the cryptocurrency, possibly by institutional players or high-net worth investors.

4. Black Thursday

The crypto community was in for a rude shock following Bitcoin's dramatic nosedive in prices on 12 March 2020 - also known as Black Thursday for crypto.

As the coronavirus became more widespread, stock prices began to fall. Though bitcoin and other digital assets remained fairly resilient at first, high price volatility was observed after a major sell-off on 12 March, which saw bitcoin's prices nearly slashed in half.

We monitor the market so you don't have to. Set up custom price alerts now

👉 iOS
👉 Android

Q2 2020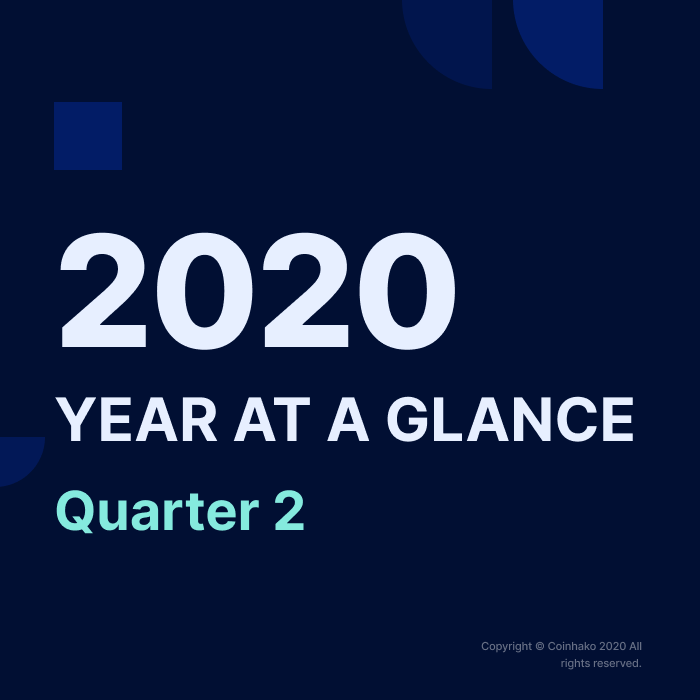 5. Bitcoin Halving

The Bitcoin network's most highly anticipated event, the third Bitcoin halving, took place between 11 May 2020 - 12 May this year. Mining rewards per block, previously set at 12.5 BTC, would be slashed to 6.25 BTC per block.

The halving sparked off several price speculations about whether the bellwether cryptocurrency would rise in value, owing to the reduced rewards.

👉 Read more about the 2020 Bitcoin halving here


6. Temasek Holdings Join Facebook's Libra-backed project

Singapore's state-owned investment company, Temasek Holdings, took a step towards embracing digital payments when they joined the Libra project on May 14, 2020.
The Swiss-backed Libra association welcomed two other new members based in California , crypto investment firm Paradigm and private equity group Slow Ventures.

Libra's whitepaper was released in late 2019, describing the project as a digital payment network allowing the transfer of digital money at very low fees. Built on the Libra blockchain, the Libra payment network will support single-currency stablecoins and its multi-currency coin, LBR.

Facebook gave its Calibra wallet a new name — Novi. For clarity, the Libra project involves two separate entities —the Libra Association and a Facebook subsidiary that's building the wallet, Novi, to support the Libra currency. The Libra Association, on the other hand, is a non-profit that takes care of Libra (the network) and Novi (previously Calibra) the wallet.

Novi is a wholly Facebook-backed project helmed by David Marcus, the Head of Novi at Facebook.

Governments across the globe are beginning to embrace digital currencies, and China has been ahead of the curve, projected to be one of the first countries to launch a Central Bank Digital Currency (CBDC).  Earlier this year, China launched its digital currency program, known as the Digital Currency Electronic Payment (DCEP).

To encourage adoption and use of the digital yuan, China has conducted trials in multiple cities. In April, the People's Bank of China (PBoc)  launched the pilot phase of the digital yuan in Chengdu, Xiong'An, Shenzhen and Suzhou.

Some early adopters included China's largest ride-hailing app Didi Chuxing, food delivery giant Meituan Dianping and streaming platform Bilibili were said to be working alongside banks to explore the possibilities of using the DCEP.

Suzhou citizens also got involved in the pilot test,during a city-wide lottery which awarded 100,000 digital red packets worth RMB 200 each.

9. Earliest Bitcoins moved for first time in 11 years

A bitcoin address containing Bitcoins mined in February 2009 transferred all of its holdings to two different Bitcoin wallets in May this year. The transfer sparked off debate about whether these Bitcoins belonged to Satoshi himself, since a very small number of people would have mined Bitcoins using the original Bitcoin client, during the infancy of Bitcoin's history.

Q3 2020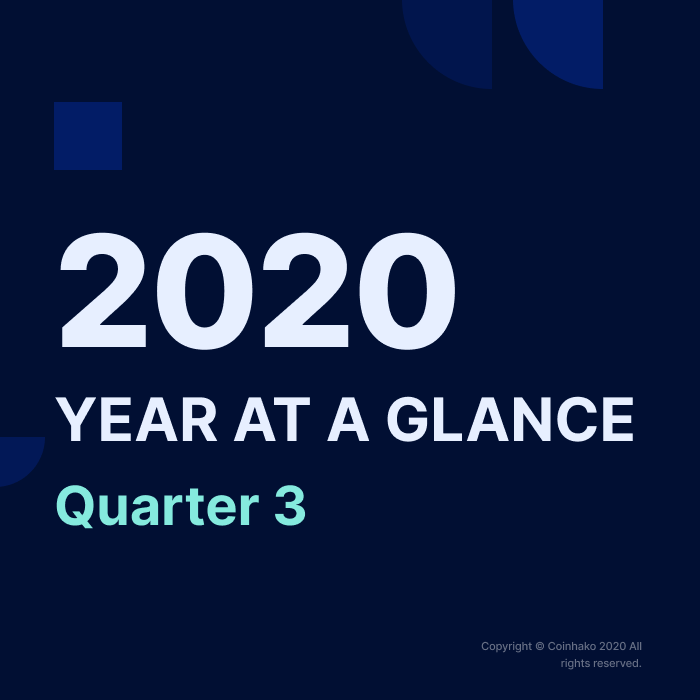 Project Ubin, a government initiative to explore blockchain and distributed ledger technology, successfully concluded its fifth phase in July 2020. The end of the fifth phase also marks the conclusion of the project.
During Phase 5, a payment network prototype was developed in collaboration with JP. Morgan and Temasek. The prototype will continue to serve as a test network to facilitate collaboration and develop next generation cross-border payment structure.
According to a report released by the Monetary Authority of Singapore, an international settlement network modelled after the payments network prototype would be capable of enabling faster and cheaper transactions, compared to conventional cross-border payment methods.
The Monetary Authority of Singapore (MAS) and Temasek today jointly released a report to mark the successful conclusion of the fifth and final phase of Project Ubin.
It provides technical insights into the blockchain-based multi-currency payments network prototype that was built and describes how the network could benefit the financial industry and blockchain ecosystem.

11. Yield Farming and Defi Boom

Identified as one of the key trends to watch out for this year, and yield farming and decentralised finance also saw accelerated demand in 2020.

Crypto investors sought to take part in yield-farming, a strategy where traders receive interest and fees for pooling and lending cryptocurrencies. According to a report by CoinGecko, a massive $9 billion was pumped into the Ethereum blockchain during Q3 2020.

The tokens Uniswap and Curve emerged as the top contenders among decentralised exchanges, accounting for about 80% of the total DEX market share by the end of Q3 this year.


Bitcoin wasn't the only crypto setting records in 2020. On Aug 12 2020, the Ethereum network hit a new all-time-high in transaction/gas fees. The network raked in an impressive $6.87 million dollars worth of fees, a testimony of how willing users were to fork out fees to buy into the Q3 defi boom.



13. Travel Rule

In June 2019, the Financial Action Task Force (FATF) issued a directive to —issued a directive around the globe to impose rules on virtual asset service providers, citing "the need to adequately mitigate the money laundering and terrorist financing risks associated with virtual asset activities.

FATF members were advised to introduce compliance measures within a 1 year window period, putting pressure on VASPs to source for compliance solutions to align with **AML-CFT measures.

**AML-CFT: Anti-Money-Laundering-Counter-Financing-Terrorism
More about the FATF's Travel Rule here
Q4: Quarter 4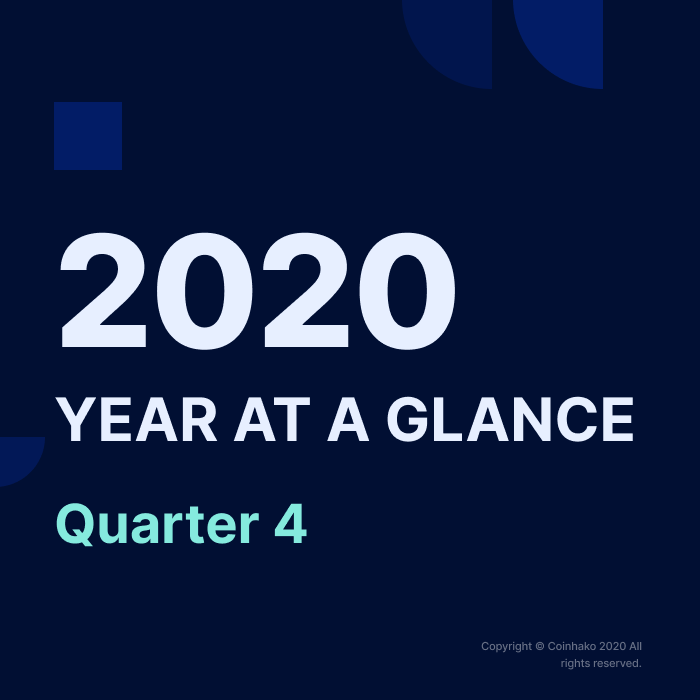 14 .ETH 2.0

Ethereum 2.0, also known as Eth2 or "Serenity", is an update which will see changes to the way the Ethereum blockchain functions.
Many conversations were sparked this year about the second-largest cryptocurrency, Ethereum's highly-anticipated network upgrade. On 1 December 2020, the  Ethereum began its transition from its existing Proof-of-Work model to a Proof-of-Stake one, introducing the use of sharding to improve the throughput** of transactions on the ETH network.
More about ETH 2.0 here
15. 2020 Singapore Fintech Festival

With the global pandemic standing in the way of large-scale events, 2020's Singapore Fintech Festival went virtual (and global) for its very first time! The second run of the Singapore FinTech Festival x Singapore Week of Innovation and Technology (SFF x SWITCH) attracted some 60,000 participants and 7,000 global companies from 7 - 11 December 2020.
Coinhako participated in this year's edition of the SFF X SWITCH for the first time since our establishment, with a virtual booth featuring blockchain content and an exclusive preview of our upcoming product launch — Coinhako Privé.
More about the 2020 Singapore Fintech Festival here


16. XSGD Launch
Xfers, a Singapore-based financial services company, launched its XSGD stablecoin. The XSGD stablecoin is projected to become Singapore's pioneer national currency-denominated token.
On 21 October, Paypal made public its latest step towards crypto adoption - Paypal customers now allowed to buy and sell Bitcoin and other virtual currencies using their PayPal accounts.

The crypto purchased using their Paypal accounts could then be used to fund their purchases from the 26 million merchants which accept Paypal.
18. Coinhako unveils preview of institutional product, Coinhako Prive

As market leader in the emerging digital assets industry, we always endeavour to enhance our services for our clients - providing them with easy access to bitcoin and other digital assets. With institutional interest in digital assets has been on the rise, our team felt it was a good time to create a bespoke extension of our product, to cater to institutional and high-net-worth clients.

An exclusive preview was showcased at this year's Singapore Fintech Festival and more information will follow in due course.


19. Bitcoin Breaks New ATH @ $28K

24K on the 24th, 25K on the 25th…🤔
It's no secret that December has been a record-breaking month for Bitcoin.

Ever since bitcoin recrossed its psychological threshold at $20K, it continued to set record highs within a mere span of hours. The largest cryptocurrency by market cap is currently trading up 49% since the start of the month.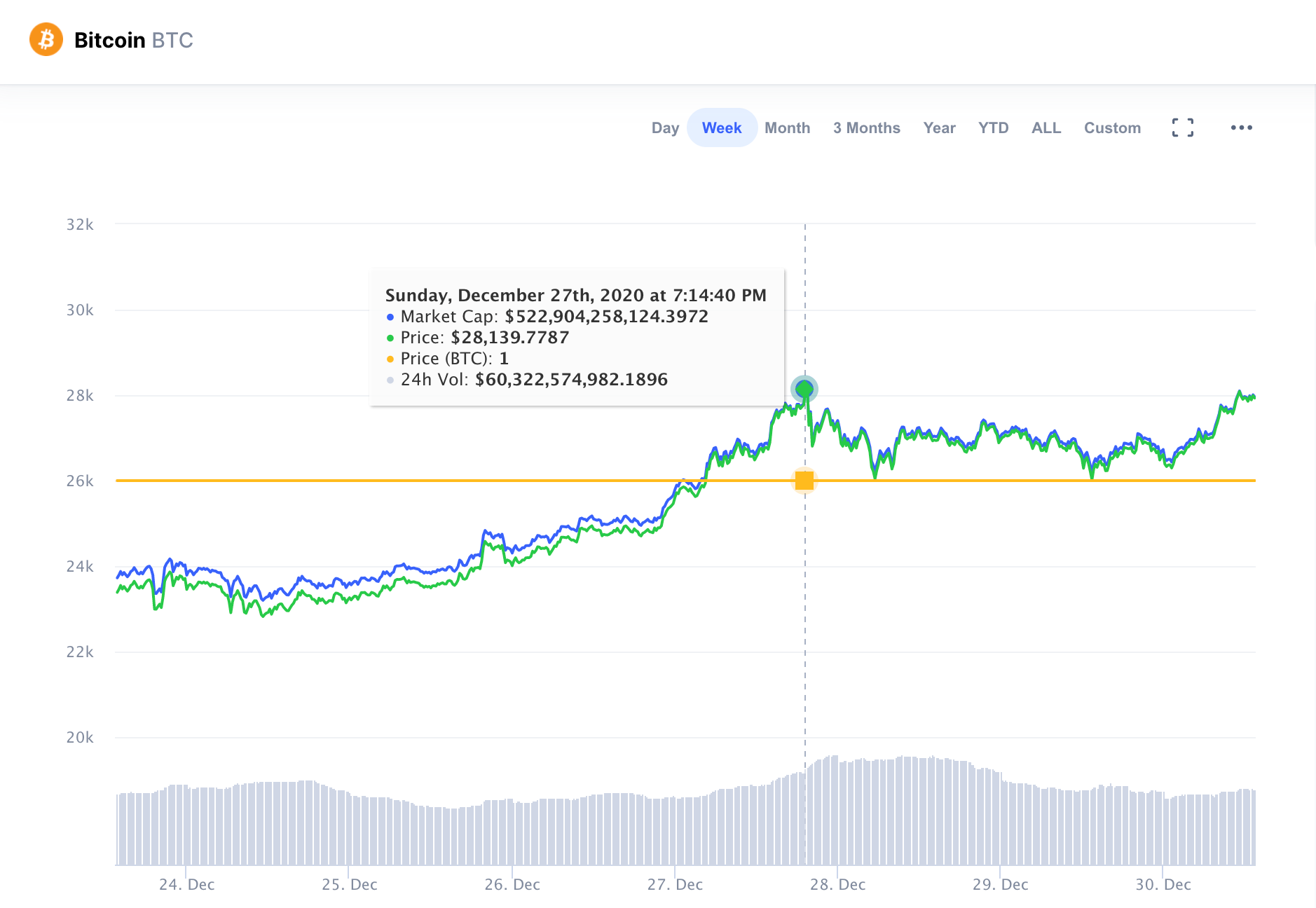 Earlier this week on the 27th, Bitcoin broke the $27K mark and briefly surged past $28K, before settling down to  $26.8K on the 28th. Bitcoin briefly recrossed $28K again this afternoon, before settling down to $27.9K at the time of writing.

20. 1,200% increase in DeFi Transaction Volume, TVL $14.97B

2020 has also been an epic year for decentralised finance.

DeFi has come a long way since it first hit $1 billion total value locked (TVL) in February  — at the time of writing, DeFi records a high of $14.97 in TVL.

According to a report by DAppRadar, DApp transaction volume has amassed to an impressive $270 billion in 2020, with Ethereum's DeFi ecosystem dominating 95% of these figures. This is a massive increase from $21 billion recorded in 2019.

And… that's a wrap!

Thank you for trading with Coinhako and making our 2020 an amazing one!

Watch this space for more updates and we'll see you in 2021!
---

📩 Sign-up to Subscribe to our mailing list to have them delivered straight to your inbox!
👉Join our Telegram community
🤔If you have any enquiries, you may contact us here or you can visit our Information Page.
Coinhako is available in these countries!

🚀 Buy Bitcoin at Coinhako Singapore
🚀 Mua Bitcoin Coinhako Vietnam
---
Copyright © Coinhako 2020 All Rights Reserved. Read more on our terms of use of this blog.
All opinions expressed here by Coinhako.com are intended for educational purposes, taken from the research and experiences of the writers of the platform, and should not be taken as investment or financial advice.