2019 was indeed an exciting year for Bitcoin (BTC), Cryptocurrencies, Coinhako and the rest of the Blockchain industry as well!
Through much of the year, we saw many developments pointing towards greater acceptance and adoption of blockchain technology in 2020 - and hopefully, through the rest of the new decade.
Here is a recap of the key events that shaped the blockchain landscape and your Coinhako experience this year:
As a company, we were very excited to become the first platform in the world to offer at least 100 fiat-crypto pairings for trading in Q1 2019 and we have been adding onto that through much of the year. There were many new use cases announced by more traditional financial institutions as well.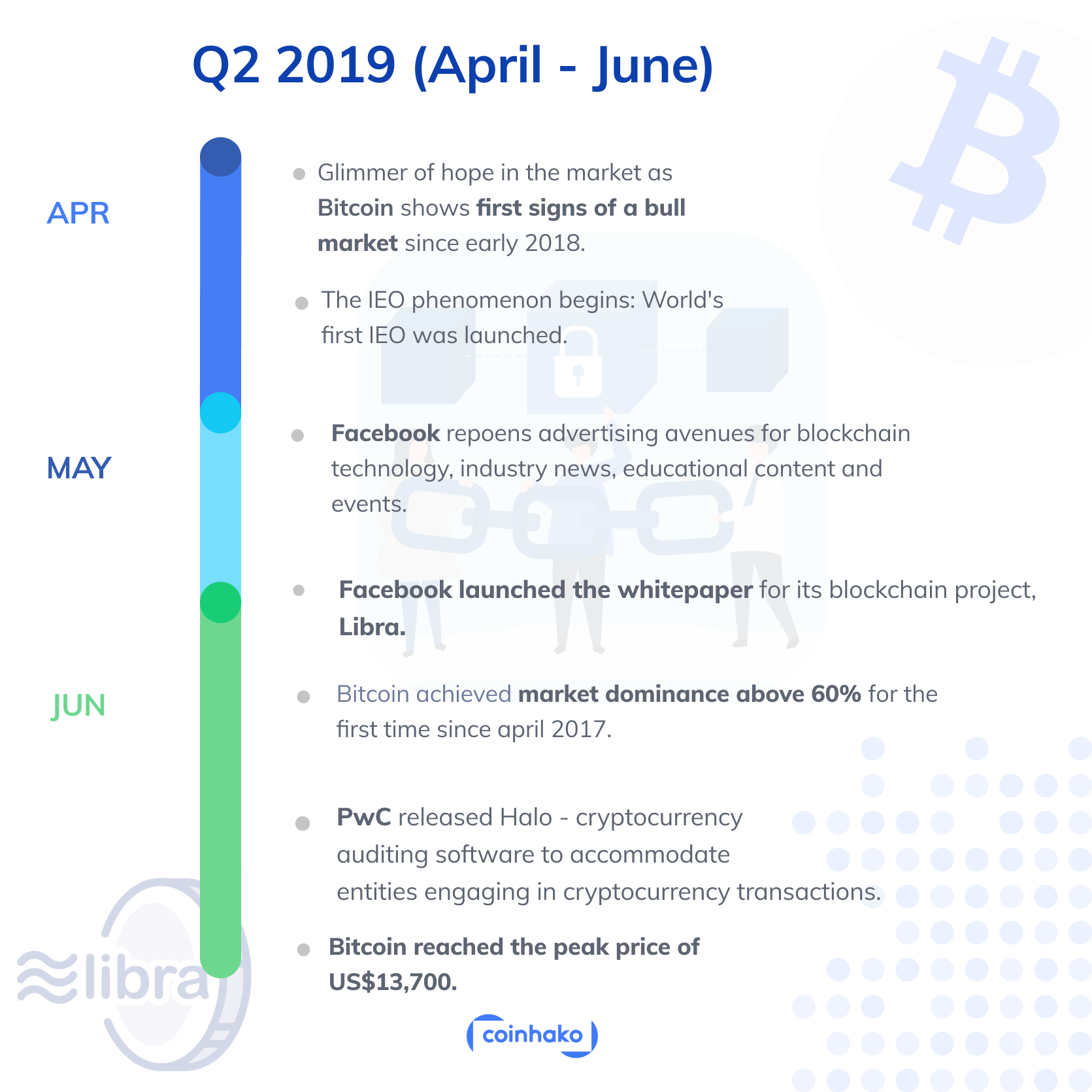 Q2 2019 was arguably the peak period for interest in cryptocurrencies and BTC for the year. BTC showed a sudden resurgence in prices and Facebook's huge announcement for Libra were all strong catalysts in refuelling interest in the market.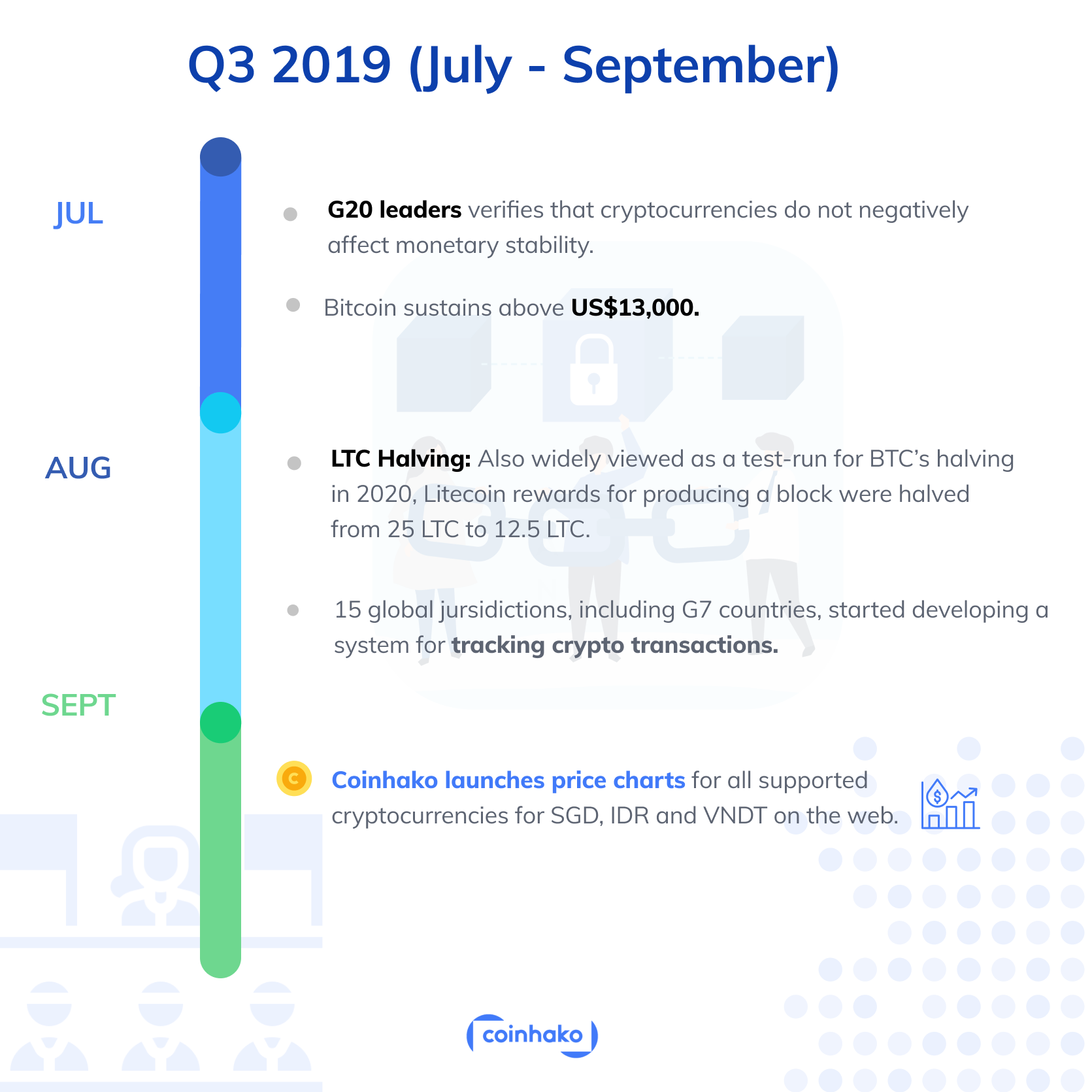 Q3 2019 saw a continuation of interest in the market from Q2, with BTC prices staying close to it's 2019 peak price to start July. Greater attention by world leaders regulators also came into prominence alongside Litecoin's (LTC) halving was also came into prominence and was widely believed to be a gauge into the much anticipated BTC halving in 2020.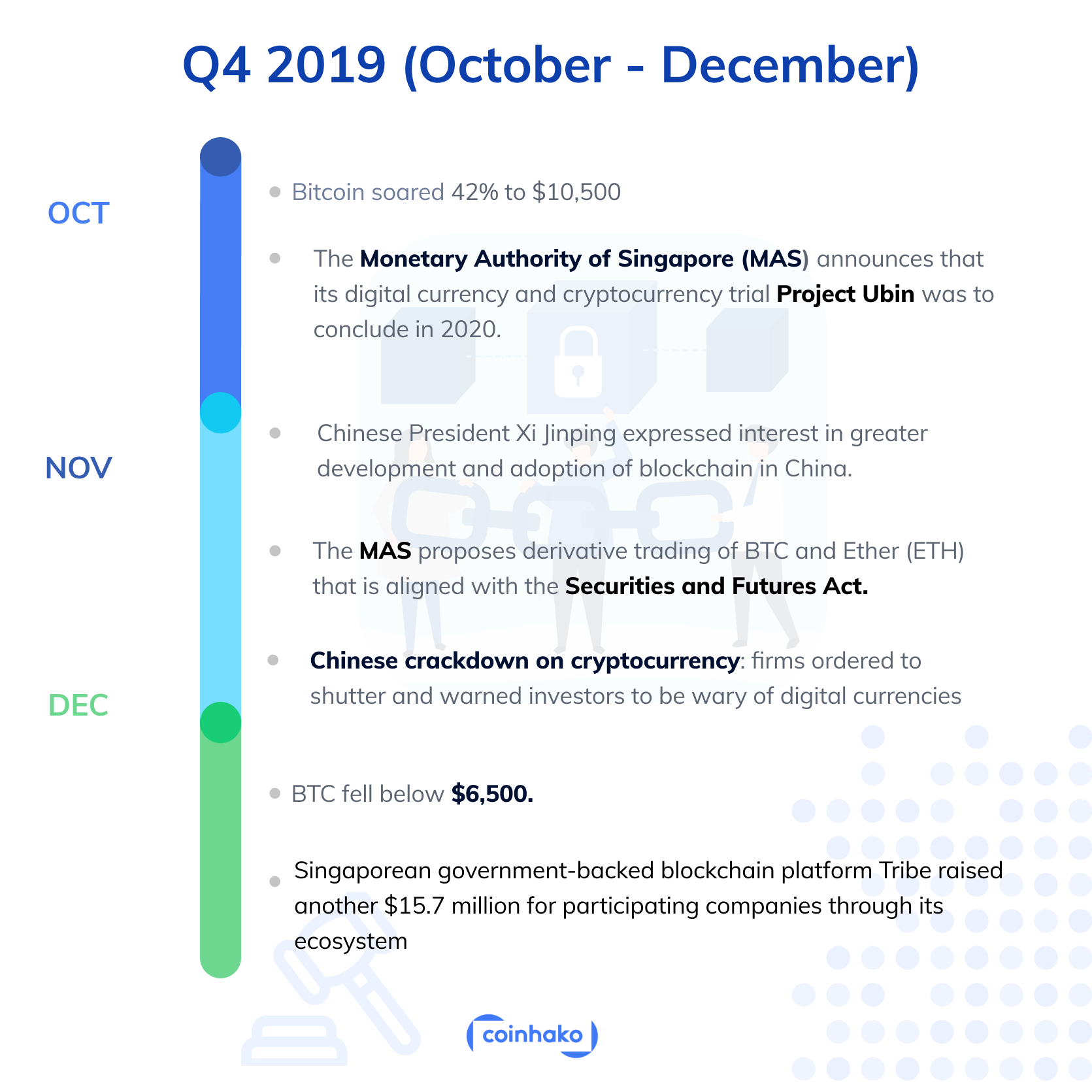 Q4 2019, saw a much more serious tone in the market in with regulators and world leaders announcing larger involvements in the development of the blockchain marketplace; All these
What about Coinhako?
As a company, we continued expansion of our product line through much 2019; From our humble beginnings as a BTC wallet service for Singaporeans only, we have grown into a world class multi cryptocurrency trading platform, providing similar Bitcoin and cryptocurrency trading services - with local asian currencies like Singapore Dollars (SGD), Vietnamese Dong (VND) and Indonesian Rupiah (IDR) - across multiple countries!
What is installed for Coinhako in Q1 2020?
With much of the world shaping up to focus on regulating cryptocurrencies and blockchain technology, the market moves one step closer to greater adoption and maturity.
As a company, our focus much of the first quarter will be for users have a smooth transition into this next phase of the blockchain marketplace; as we work to help all our country (Singapore, Vietnam, Indonesia) markets enable a safer and accountable blockchain industry for everyone.
---
👀Remember to visit our blog for the latest updates, or
📩 Subscribe to our mailing list to have them delivered straight to your inbox!
*The information presented in this article does not constitute investment advice and is purely for educational and/or informational purposes.
👉Join our Telegram community
🤔If you have any enquiries, you may contact us here or you can visit our Information Page.
New to Coinhako?
Coinhako is available in these countries!

🚀 Buy Bitcoin at Coinhako Singapore
🚀 Mua Bitcoin Coinhako Vietnam
---
Copyright © Coinhako 2020 All Rights Reserved. Read more on our terms of use of this blog.
All opinions expressed here by Coinhako.com are intended for educational purposes, taken from the research and experiences of the writers of the platform, and should not be taken as investment or financial advice.