Q1 of 2020 marks an exciting period for the local Fintech scene in Singapore, as the marketplace–and its various submarkets–look to break new frontiers. Most notably, the commencement of regulatory frameworks like the Digital Banking License and Payment Services Act, which will govern the growing number of Fintech Service Providers in Singapore.

As a homegrown company in Singapore, Coinhako will be working to comply with the Payment Services Act, issued by the Monetary Authority of Singapore (MAS), to acquire the necessary licenses and maintain our stronghold as a key cryptocurrency service provider for the local market.

Through this, a more accountable blockchain and cryptocurrency marketplace and better services, for the likes of Bitcoin (BTC) and the wider cryptocurrency market, will be coming to Singapore!
Cryptocurrencies as Digital Payment Tokens (DPT)
Before reading on, it is important to establish that, as per the regulatory white paper of the Payment Service Act and other regulatory platforms in Singapore, Cryptocurrencies will be classified as Digital Payment Tokens (DPT).
With so much to digest about these developments, here are 3 key things that you should definitely keep a lookout for in the upcoming Payment Services Act!
When is the Payment Services Act happening? Who does it affect?
The Payment Services Act will officially commence on 28 January 2020, and all persons conducting activities under the Payment Services Act, will have to obtain a license to conduct business in Singapore.
Businesses that the Payment Service Act will affect include account issuance, domestic money transfers, cross-border money transfers, merchant acquisition, e-money issuance, digital payment tokens, and money changing.
Digital Payment Token (DPT) providers, like Coinhako, will be allowed a period of up to 6 months after the commencement of the act to submit a license application to remain in operation.

As Coinhako has always been committed to providing Singaporeans with accelerated access to digital tokens such as Bitcoin (BTC), we will devote our best efforts towards obtaining the license.
How will the Payment Services Act protect the general public?
As a general framework, the Payment Services Act endeavours to protect users' interests, by mandating the safeguarding of funds in transit and e-money float to ensure user protection.

While it will require some payment service providers to implement safeguarding measures, Digital Payment Token (DPT) investments will not be covered with this release of the Payment Services Act. Instead, regulators in Singapore will continue to monitor trends and risks in the use of DPTs in Singapore, and further develop the Payment Services Act for conduciveness for all parties.

Meanwhile, Coinhako will continue to implement industry best security practices to secure your Bitcoin, Cryptocurrencies and other Digital Payment Tokens (DPT) on our platform.
How will AML-CFT enforcements affect Coinhako?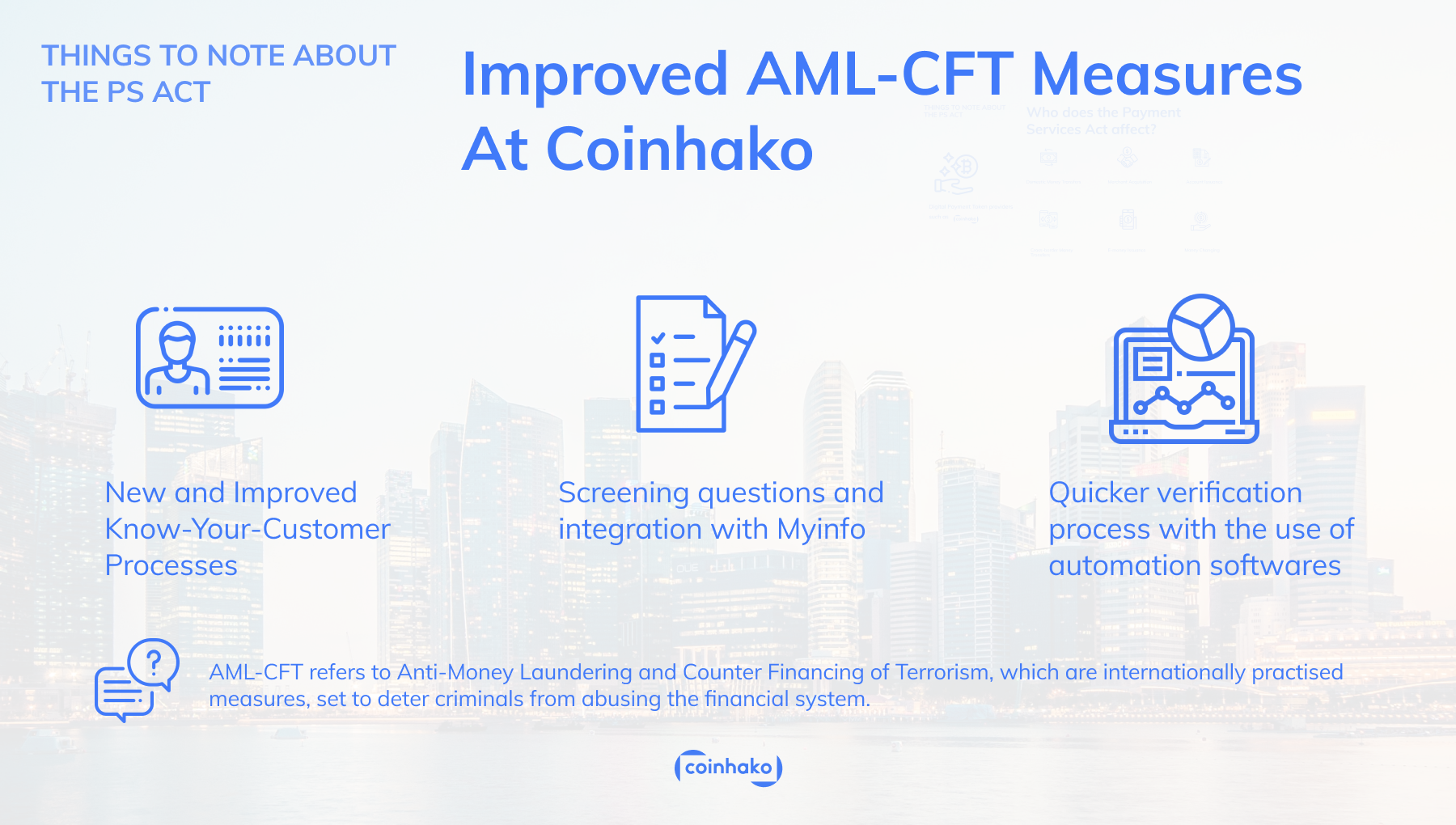 AML-CFT: AML-CFT refers to Anti-Money Laundering and Counter Financing of Terrorism, which are internationally practised measures, set to deter criminals from abusing the financial system.

Due to the anonymous nature of Digital Payment Token (DPT) and cryptocurrency transactions, Anti-Money Laundering/ Counter Financing of Terrorism (AML-CFT) measures will come into place with the Payment Services Act, to mitigate such risks in Singapore;. Digital Payment Tokens (DPT) providers or businesses providing custodian wallets will be expected to comply with the AML-CFT standards of the Payment Services Act.

Coinhako will continue to improve our existing AML-CFT measures to ensure compliance with these new regulations when they come into play.

We will strive to further refine our AML-CFT measures in place to ensure readiness for the Payment Services Act when it commences.
Some of our efforts moving forward will include revamped Know-Your-Customer (KYC) processes, which will include screening questions, as well as integration with Myinfo for a more thorough, but efficient, verification process. Additional measures, where required, will be communicated to users in due course.
Quicker and Smoother verification via automated softwares

While we will be implementing more comprehensive user verification measures, users may also anticipate quicker and smoother verification processes, due to our adoption of automated softwares.

As one of Singapore's most trusted and renowned Cryptocurrency & Digital Payment Token (DPT) wallet platforms, we are excited to embark on this journey– together with the wider Blockchain and Fintech marketplace–to enable more accountability in the local market and continue our services of accelerating access to Bitcoin, cryptocurrencies and blockchain, for all Singaporeans.
---
👀Remember to visit our blog for the latest updates, or
📩 Subscribe to our mailing list to have them delivered straight to your inbox!
*The information presented in this article does not constitute investment advice and is purely for educational and/or informational purposes.
👉Join our Telegram community
🤔If you have any enquiries, you may contact us here or you can visit our Information Page.
New to Coinhako?
✔️ Signup Now!
Coinhako is available in these countries!

🚀 Buy Bitcoin at Coinhako Singapore
🚀 Mua Bitcoin Coinhako Vietnam
---
Copyright © Coinhako 2020 All Rights Reserved. Read more on our terms of use of this blog.
All opinions expressed here by Coinhako.com are intended for educational purposes, taken from the research and experiences of the writers of the platform, and should not be taken as investment or financial advice.