Who let the DOGE out?

Ever wondered how a cryptocurrency based on a meme could reach a market cap of $50 billion?

At its highest, the total market capitalization of Dogecoin hovered around $50 billion, making it more valuable than automobile company Ford Motor Co., and nearly as valuable as Twitter - the platform that had a huge part to play in Dogecoin's rise to the moon.




What is Dogecoin? Why is it so popular?

Inspired by a meme, and favoured by Shiba Inus worldwide, Dogecoin was created in 2013 by IBM engineer Billy Markus from Portland and Adobe software engineer Jackson Palmer from Sydney, Australia.

Dogecoin is an open-source digital currency forked from one of the earliest cryptocurrencies, Litecoin. Dogecoin has no limit to its supply and ranks #6 among cryptocurrencies at the time of writing.


🐶 Such wow ✨! The furry canine who inspired the doge meme is a female Shiba Inu named Kabosu. Kabosu is currently 15 years old and lives in Japan!

You can follow Kabosu's adventures on her Instagram page below 👇

https://www.instagram.com/kabosumama/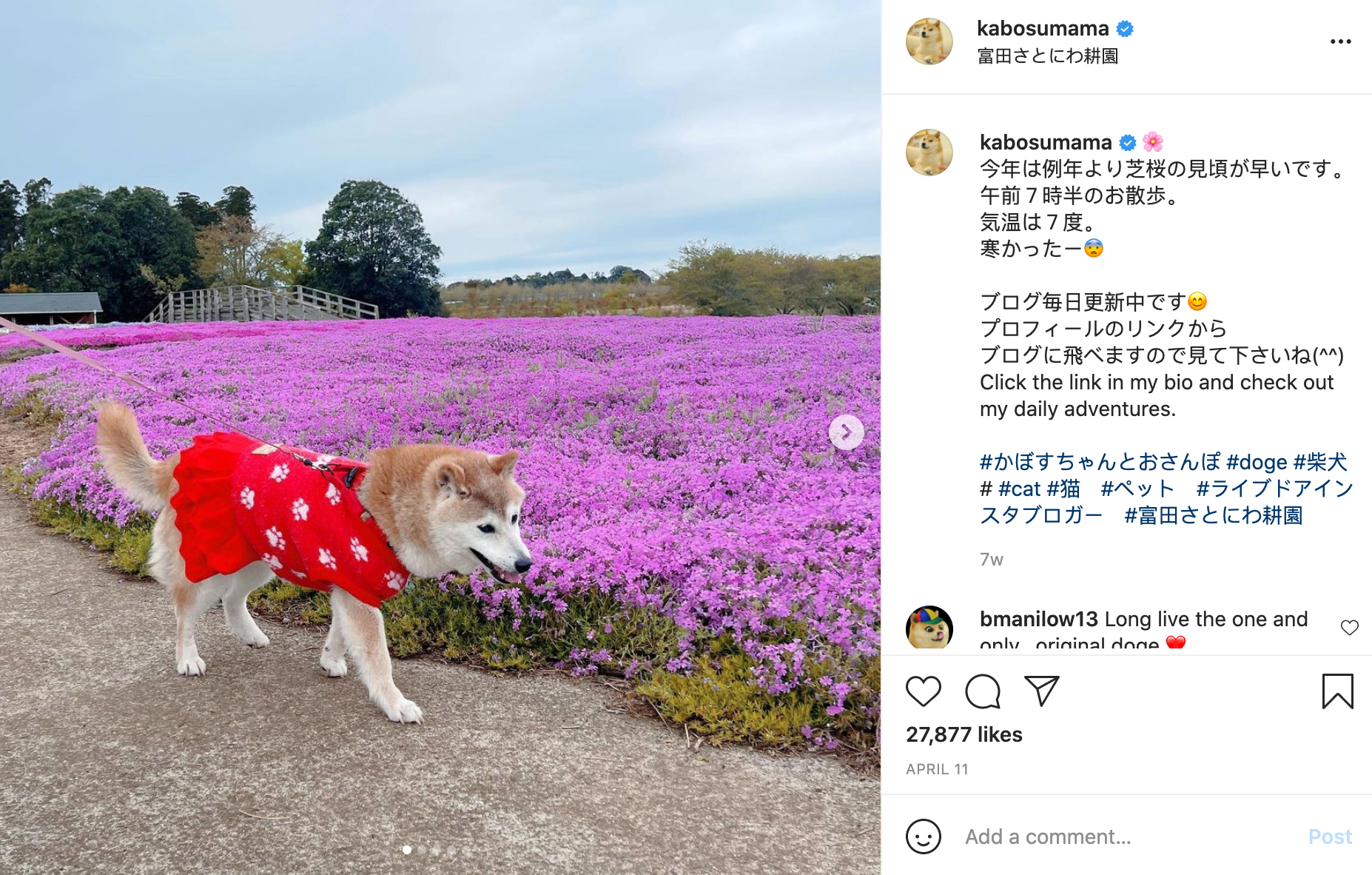 👉 Check out our Instagram page & follow for a chance to win DOGE merch

What does Elon Musk have to do with Dogecoin?

Musk is also known to have referred to doge as his "fav" cryptocurrency, and even tweeted that "Dogecoin is the people's crypto."


The Tesla chief's mention of Doge this year happened in February, shortly after he announced his break from Twitter. Following his tweet, prices rose slightly to $0.05798, based on data on blockchain and cryptocurrency website Coindesk.


Later in April, Dogecoin prices were sent skyward— witnessing a 400% spike between April 9 - April 16th. At this point, it did appear that most major Dogecoin price movements coincided with Musk's tweets — indeed making him befitting of the title of "The Dogefather".

During the same week, Musk tweeted "Doge barking at the moon", accompanied by a rather cryptic-looking graphic.

Musk, however, isn't the only noteworthy personality to sing Doge's praises.

Mark Cuban, billionaire entrepreneur and owner of the basketball team the Dallas Mavericks, had posted a series of public posts about Dogecoin as well.

In April, Cuban revealed that his NBA team was on track to complete an impressive 6,000 dogecoin transactions, citing Dogecoin as a currency that people "would actually use for transactions."

Even Snoop Dogg (or Doge?) got himself into the whole Dogecoin hype.
Rollercoaster Dogecoin Prices Hit 2021 All-Time-High Before Saturday Night Live


The week leading up to Musk's guest-host spot on Saturday Night Live saw Dogecoin prices running wild and free.

Dogecoin prices reached their peak at $0.7376 on 8 May 2021, hours before Saturday Night Live (SNL), according to figures from blockchain data platform Coinmarketcap.

Dogecoin hodlers across the globe watched Saturday Night Live with bated breath, anticipating the potential effects Musk's live commentary might have on the meme-inspired cryptocurrency's prices.

After Musk had referred to the meme-inspired cryptocurrency as a "hustle" on live American television, prices plummeted nearly 30%.


Are the Doge Days Over? Elon Musk Calls A Hot Tub Heated By Mining Dogecoin "A Great Idea"

Dogecoin has since fallen 42.9% from its highest value in 2021. But don't fret — the doge days might not be over just yet.

For starters, Elon Musk has expressed his support for a possible - though rather unorthodox use for the meme-based coin.

On a more serious note, however, Musk revealed that he will be working alongside Dogecoin developers to make Dogecoin more environmentally sustainable — aligning with the recent Tesla announcement to stop accepting Bitcoin payments and citing their intentions to find a more carbon-neutral replacement.

🐶A DOGE music festival?

In light of Dogecoin's stellar performance, the Dogecoin community has put forward a plan for a DOGE-themed music festival  — titled Dogepalooza — to celebrate its success.

The proposed guest list includes prominent personalities including Elon Musk, American rapper Snoop Dogg, musician Grimes, and billionaire entrepreneur Mark Cuban. So far, only Elon Musk has responded to the invitation, in a tweet saying that the event sounded "kinda fun."

Though no concrete dates have been confirmed at the time of writing, the community expects it to happen this fall.


Opinions remain divided about the internet's most adorable cryptocurrency — but for now, it does seem like Dogecoin is not going away anytime soon.

👉 Stay tuned to our Instagram page to find out how you can win exclusive DOGE merchandise!

How to buy Dogecoin in Singapore?


You can buy dogecoin in both Singapore Dollars (SGD) and United States Dollars (USD) on Coinhako.

---
📩 Sign-up to Subscribe to our mailing list to have them delivered straight to your inbox!
👉Join our Telegram community
🤔If you have any enquiries, you may contact us here or you can visit our Information Page.
Coinhako is available in these countries!

🚀 Buy Bitcoin at Coinhako Singapore
🚀 Mua Bitcoin Coinhako Vietnam
---
Copyright © Coinhako 2021 All Rights Reserved. Read more on our terms of use of this blog.
All opinions expressed here by Coinhako.com are intended for educational purposes, taken from the research and experiences of the writers of the platform, and should not be taken as investment or financial advice.