Half of 2021 is almost over! Lately the crypto world has been buzzing with developments, coupled with the thrilling roller coaster that is the market movement. For the colourful month of June, we have more events lined up for you to get excited about. Take a peek at some of the upcoming events:

3 - 9 June: Win exclusive DOGE shirt + Coinhako Merch ⭐️

Feeling FOMO about the DOGE events like the DOGEPalooza happening in fall? FOMO no more and celebrate the shiba in the safety of your home instead!

Stand a chance to win a DOGE t-shirt and get your hands on limited Coinhako merchandise like our crypto bag holders, masks, stickers and more!

Wondering how you can win? The first step is to follow our Instagram page: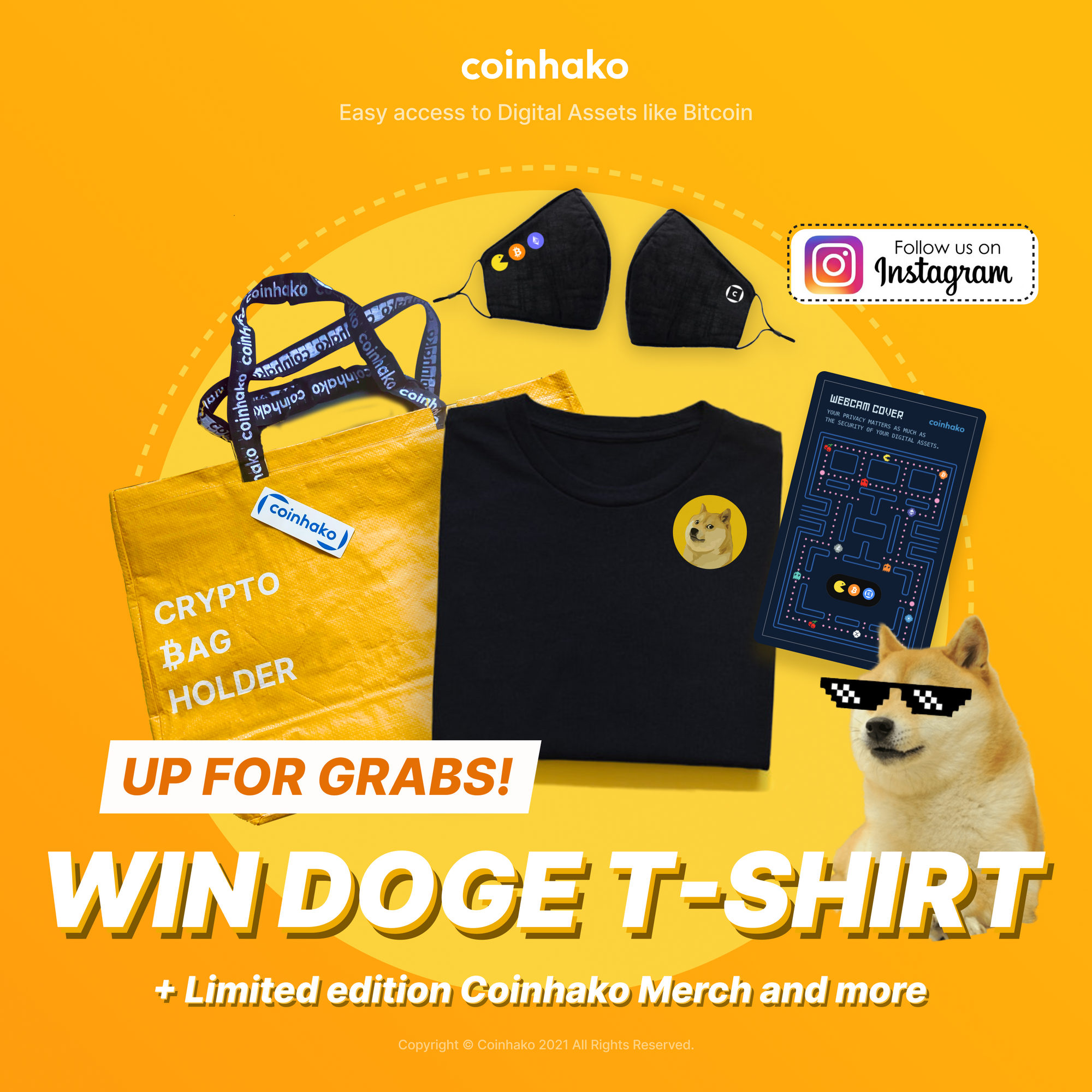 20 lucky winners will walk away with a bag full of exciting prizes! What are you waiting for?


7 - 13 June: DOGE Treasure Hunt 💰

Many have conquered the search for the first treasure hunt, so we took the challenge up a notch this time around. DOGE is soaring through the 🐶 WOOF 🐶 with its recent surge of almost 30% in the last 7 days, at the time of writing.

Think you can find the treasure and catch the DOGE? Details will be shared very soon on our Facebook page, so do watch the space for more details.



21 - 26 June: News Hunt 🗞

Love mysteries and playing detective? 🔍 How about solving puzzles and brain teasers like fill in the blanks? Play along with us and stand a chance to win more DOGE! It's an ulti-mutt DOGE fest this June. 🐶

Details of the hunt will be shared on our Facebook page. Keep on the lookout, for more details closer to date.

We're Giving You More🔥 Expanding the List of Supported Tokens on Coinhako This June

Our core mission has always been to provide easy access to Bitcoin and other cryptocurrencies in Singapore. We are happy to share that in May 2021, we have increased our list of supported tokens with 9 new tokens including in-demand crowd favourites VeChain (VET) and Cosmos (ATOM).

Check out our updated list of supported tokens here.

👀 Keep an eye out for more in-demand tokens coming to Coinhako this June! 🚀

---
📩 Sign-up to Subscribe to our mailing list to have them delivered straight to your inbox!
👉Join our Telegram community
🤔If you have any enquiries, you may contact us here or you can visit our Information Page.
Coinhako is available in these countries!

🚀 Buy Bitcoin at Coinhako Singapore
🚀 Mua Bitcoin Coinhako Vietnam
---
Copyright © Coinhako 2021 All Rights Reserved. Read more on our terms of use of this blog.
All opinions expressed here by Coinhako.com are intended for educational purposes, taken from the research and experiences of the writers of the platform, and should not be taken as investment or financial advice.