Dogecoin trading on Coinhako is back by popular demand!
What is Dogecoin (DOGE)?
The one and only Dogecoin (DOGE) is an open source peer-to-peer digital currency, favoured by Shiba Inus all over the world!
The first of its kind, Dogecoin (DOGE) was launched as a parody of Bitcoin (BTC), with the intention of injecting some fun to the blockchain space; DOGE would kickstart a string of other meme-based and "joke currencies" that now exist in the world of blockchain. DOGE was created based on the famous 'Doge' Internet meme - as shown by the Shiba Inu in the DOGE logo - and forked from Litecoin (LTC) in December 2013.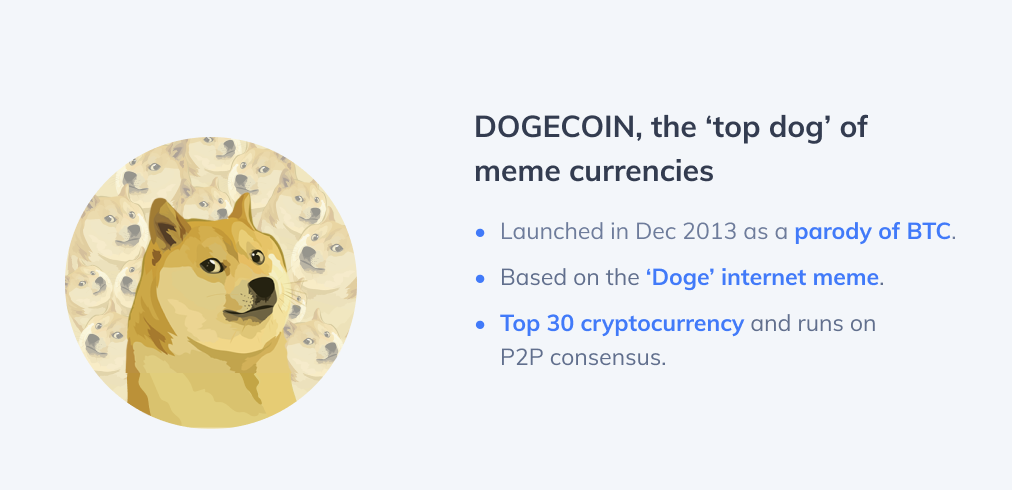 DOGE is also commonly used as a tipping system Social Media platforms like Reddit & Twitter to reward users for the creation or sharing of quality content.
Why has there been so much hype about Dogecoin?
Following the subreddit on Satoshi Street Bets and their mission to send the meme-inspired Dogecoin "to the moon", we have been receiving many enquiries about re-listing Dogecoin on Coinhako and we're happy to announce that trading is finally enabled for Dogecoin!
Tesla's CEO, Elon Musk, recently tweeted "doge' with no context or explanation, followed by a slew of tweets about the meme-inspired cryptocurrency, going as far as calling it "the people's crypto."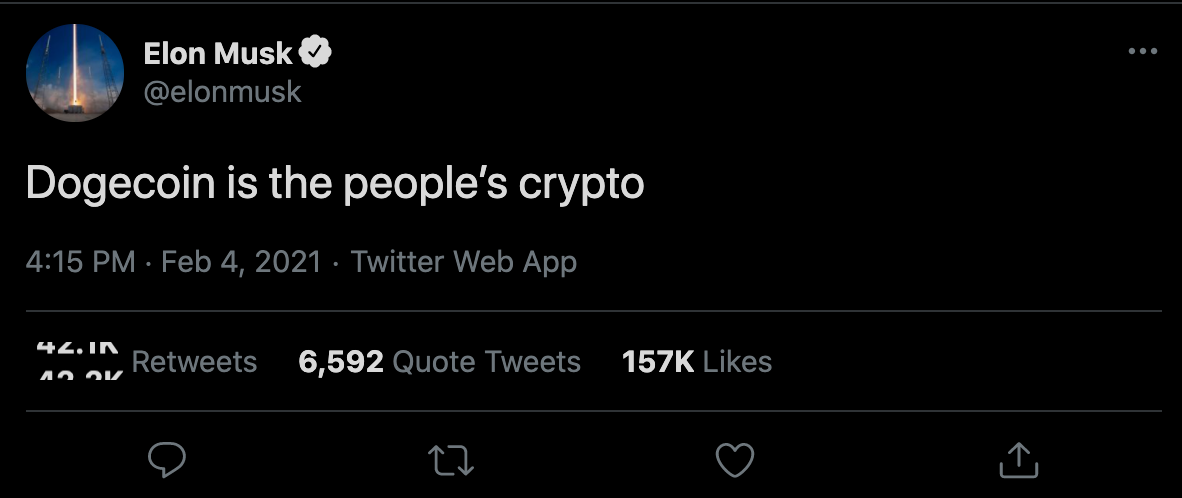 Dogecoin is currently trading at US $0.04905 per token  seeing nearly 50% in 1d gains, and 1057% in YTD gains at the time of writing.
Dogecoin is now available on Coinhako and you may purchase it with your Coinhako SGD/USD wallet, or enjoy instant access to DOGE by funding your trade with card payments.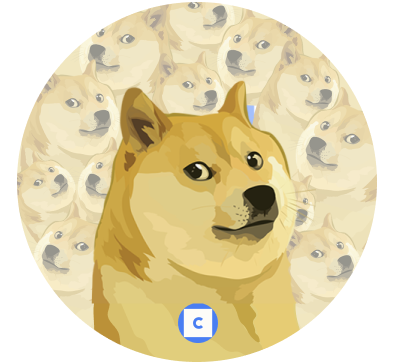 1. Trade DOGE directly with Singapore Dollars (SGD) 🇸🇬

The DOGE/SGD trading pair prices DOGE against the Singapore Dollar (SGD), and our Singapore users will be able to buy & sell GRT when they fund their accounts with SGD.

2. Trade DOGE directly with Vietnamese Dong Trading (VNDT) 🇻🇳

The DOGE/VNDT trading pair on Coinhako prices DOGE against the Vietnamese Dong (VND), and our Vietnam users will be able to buy & sell DOGE when they fund their accounts with VND.

3. Trade DOGE directly with US Dollars (USD) 🇺🇸

The DOGE/USD trading pair prices DOGE against the United States Dollar (USD), and our Singapore users will be able to buy & sell DOGE when they fund their accounts with USD.
4. DOGE Swaps (Crypto-to-crypto trading)
Coinhako users will also be able to trade DOGE with other cryptocurrencies that are supported in their countries, with our Swap function.
5. DOGE wallet (Send/Receive)
With the DOGE wallet feature, Coinhako users can securely send (withdraw), receive (deposit), and store DOGE.
6. Get the latest DOGE news on Coinhako 🚨

As with every other supported token on Coinhako, we endeavour to update our users on key news about each project through our various channels.
At this time of writing, DOGE is priced at ~US $0.04905 per token
---
📩 Sign-up to Subscribe to our mailing list to have them delivered straight to your inbox!
👉Join our Telegram community
🤔If you have any enquiries, you may contact us here or you can visit our Information Page.
Coinhako is available in these countries!

🚀 Buy Bitcoin at Coinhako Singapore
🚀 Mua Bitcoin Coinhako Vietnam
---
Copyright © Coinhako 2021 All Rights Reserved. Read more on our terms of use of this blog.
All opinions expressed here by Coinhako.com are intended for educational purposes, taken from the research and experiences of the writers of the platform, and should not be taken as investment or financial advice.