WE ARE ON THE FINAL WEEK FOR OUR DGX GIVEAWAY!
In collaboration with Digix.global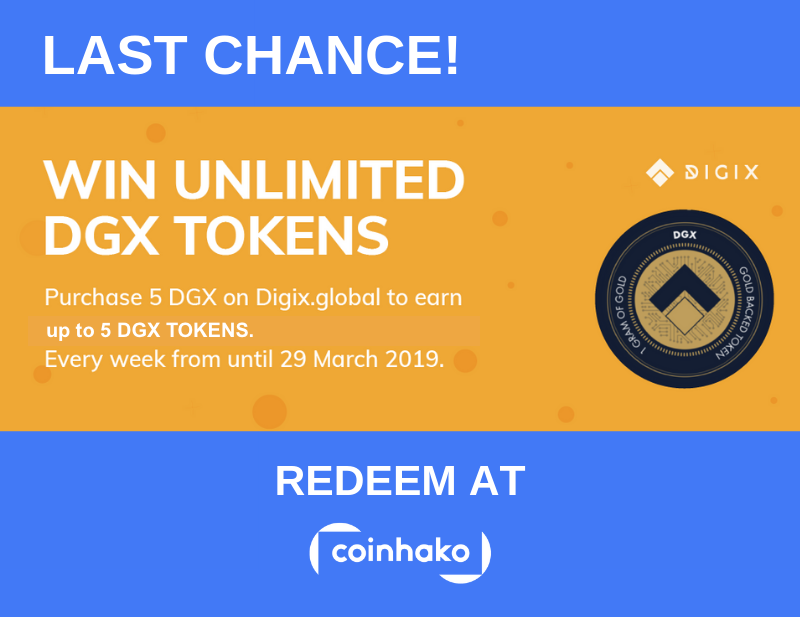 ↑↑↑ CLICK THE PICTURE to BUY DGX NOW!
Rules
Prize only redeemable through Coinhako wallet.
Tune in every Friday at: instagram.com/digix.global/ to know if are a winner.
There is NO LIMIT to the number of chances you can win.
Winner (s) will be announced every Friday & decision on participants, winners and prizes are final and non-negotiable.
Chances earned will reset at 12pm (SGT) every Friday & only apply to the nearest Friday announcement.
All purchases must be made through the Digix Marketplace, DGX obtained through any other means will not qualify.
*The information presented on this article does not constitute as investment advice and is purely for educational and/or informational purposes.
---
📩 Sign-up to Subscribe to our mailing list to have them delivered straight to your inbox!
👉Join our Telegram community
🤔If you have any enquiries, you may contact us here or you can visit our Information Page.
Coinhako is available in these countries!

🚀 Buy Bitcoin at Coinhako Singapore
🚀 Mua Bitcoin Coinhako Vietnam
---
Copyright © Coinhako 2021 All Rights Reserved. Read more on our terms of use of this blog.
All opinions expressed here by Coinhako.com are intended for educational purposes, taken from the research and experiences of the writers of the platform, and should not be taken as investment or financial advice.ShareTweetNext article