Crypto is an asset class that has been recognised for its volatility, and often branded as unsuitable for the faint-hearted. While many digital assets may be encountering sharp price swings of late, you don't have to let their volatile nature daunt you from dabbling in crypto.
As with every financial asset, there are ways to mitigate risks, and one such popular strategy is Dollar-Cost-Averaging.
What is Dollar-Cost-Averaging?


For the uninitiated, DCA or Dollar Cost Averaging is when an individual puts a set amount of capital consistently in a particular stock or share over a given period of time.
The major benefit of DCA is that it removes any potential emotional attachment to the stock and removes the need to time the market.

DCA is a fixed strategy of committing a set amount of money in a specified asset at regular intervals over a certain period of time, regardless of the asset's price.
DCA is also a common strategy used in more volatile asset classes such as stocks or mutual funds, rather than for bonds or CDs. This is also a viable strategy for investors who are more risk-averse since putting a lump sum of money into the market all at once runs the risk of buying at a peak before a reversal, which could lead to significant losses.
By using DCA, investors lower their average cost per share and reduce the impact of market volatility on their portfolios, thus reducing risk exposure significantly.

How does DCA work?
Let's say two crypto users, Charles and Jason want to spend $25,000 on acquiring Bitcoin (BTC) for their crypto portfolio.

Charles, who decides to employ the DCA strategy, sets aside $2500 to invest in Bitcoin monthly. Regardless of how the market is performing, Charles consistently commits to a $2500 contribution and spreads his cost evenly over the total number of intervals until he spends the full amount of $25,000.
Over the course of 10 months, Charles' contribution is tallied at $25,000 over the 10 periods and the overall SGD value of the Bitcoin he owns is up $2,494.37.

On the other hand, Jason who committed a lump sum of $25,000 at the same starting time period would have lost $9,738.86 over the same 10 months due to the volatility of the market.
The tables above thus highlight how DCA helps to mitigate risk and is an effective long-term strategy for investors looking for an alternative asset class while reducing their risk exposure.

Dollar-cost-average with Recurring Buys on Coinhako

Enter Coinhako's latest feature, Recurring Buys — the latest addition to our product suite which allows you to purchase a fixed value of crypto at regular intervals.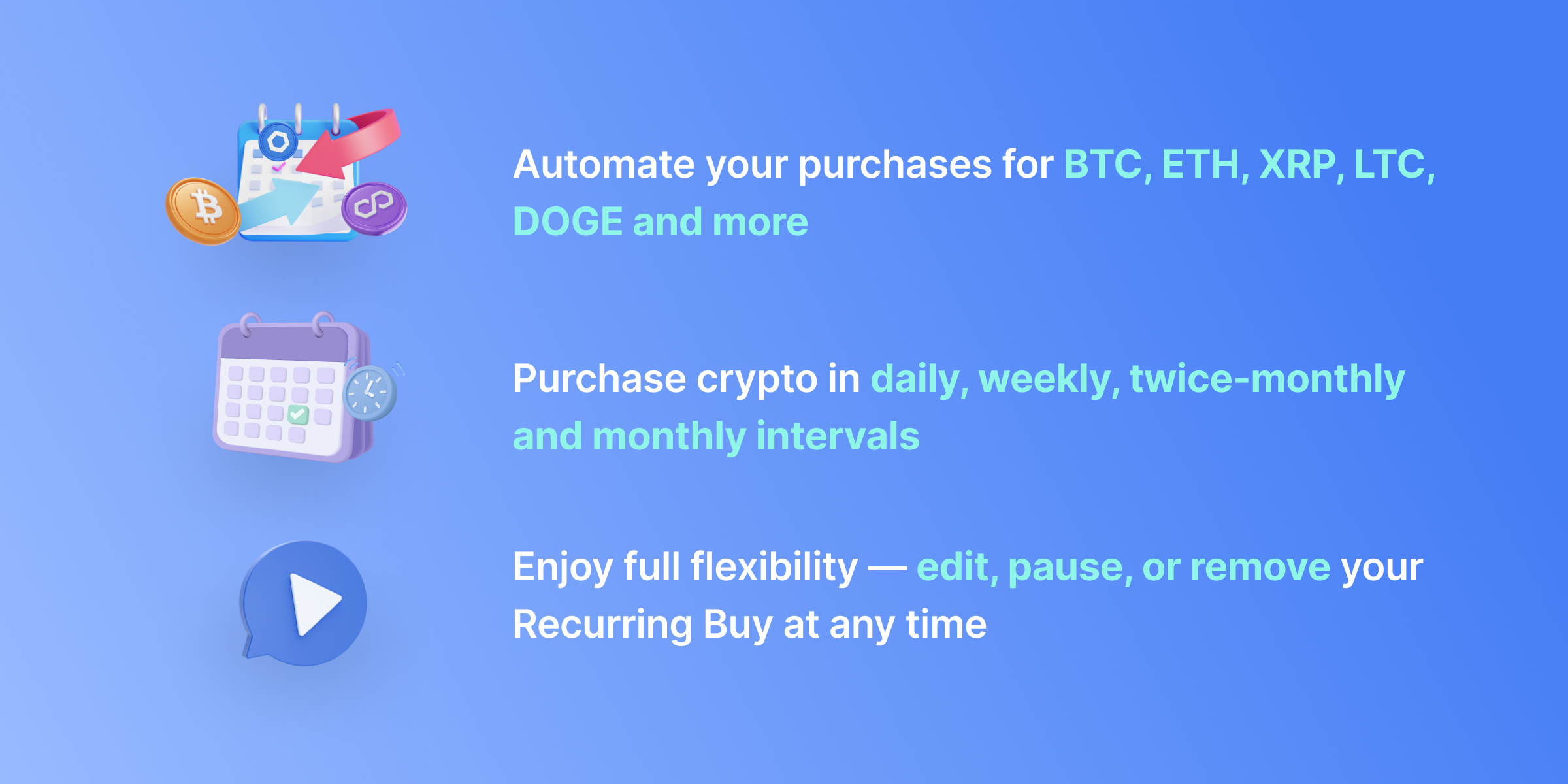 With Recurring Buys, dollar-cost-averaging becomes effortless. Gone are the days of manually purchasing crypto — you'll never have to worry about forgetting to log a crypto purchase for that particular day, week, or month.
All you have to do is select the digital asset you wish to purchase, decide how much you want to spend and how often you want your Recurring Buy to execute.
In other words, just set it and forget it!
How do I set up Recurring Buys?
To create a Recurring Buy, go to Account and select My Recurring Buys. Once you land on tha page, simply select the digital asset you wish to purchase, the fiat amount you want to spend and the frequency at which your Recurring Buy should execute.
For a detailed guide on how to set up recurring buys, refer here.
How do I fund my Recurring Buys?
As recurring orders will be funded by your SGD balance, you should ensure that you have sufficient SGD balance when setting up your recurring order.
Don't worry if you haven't already funded your SGD wallet - with our PayNow available as a payment option on Coinhako, you can seamlessly top up your wallet balance within 60 seconds.
👉 Set up recurring buy now

Co-written by Russell Tang

Disclaimer: All writers' opinions are their own and do not constitute financial advice. As a company, we do our best to provide information that is accurate and valuable. The contents of this blog post are intended for educational purposes only. Individuals are advised to perform due diligence before purchasing any cryptocurrencies as these assets are subject to high volatility, and understand the risks associated with trading cryptocurrencies.
📩 Sign-up to subscribe to our mailing list to have them delivered straight to your inbox!
👉 Join our Telegram channel 🤔

If you have any enquiries, you may contact us here or you can visit our Information Page. Copyright © Coinhako 2023 All Rights Reserved. Read more on our terms of use of this blog. All opinions expressed here by Coinhako.com are intended for educational purposes, taken from the research and experiences of the writers of the platform, and should not be taken as investment or financial advice.