What is SOL?
SOL is the native token of the Solana blockchain. It hit its ATH on Apr 7, 2021 at $27.49 and is ranked #20 by market capitalisation at the time of writing.

There is a circulating supply of 268,283,889 SOL and a maximum supply of 489 million SOL, at the time of writing.
** Kindly note that Solana wallet features are not supported on Coinhako currently.
What is Solana?
The idea and initial work on the Solana project began in 2017 but it was officially launched in March 2020 by the Solana Foundation with headquarters in Geneva, Switzerland. Solana's team comprises professionals hailing from world-renowned organisations such as Microsoft, Dropbox, and Google.
How Does The Solana Network Work?

The Solana network is a high performance blockchain that operates on a Proof-of-History consensus algorithm combined with an underlying proof-of-stake (PoS) consensus. It is designed mainly to facilitate decentralized app (DApp) creation.

Thanks to its innovative hybrid consensus model, Solana is intended to serve not only small-time traders but also institutional enterprise traders.
Solana is known for its blazing processing speed and low fees compared to many other established blockchains.
In terms of today's transaction speeds, Solana processes 65,000 transactions per second (TPS) which is around 10,000 times faster than Bitcoin, 4,000 times faster than Ethereum, and 35 times faster than Ripple — and even around 2.5 times faster than Visa.
Solana Network achieved this with its own prized and exclusive 8 core innovations:
Proof of History (POH) – The PoH system embeds historical records of blockchain transactions in order to ensure that transactions happened before they are included in the distributed ledger.


Tower Byzantine Fault Tolerance (BFT) – Tower BFT leverages the PoH as a clock before consensus, to reduce communication overhead and latency. It prefers liveness over consistency.


Turbine – Turbine is optimized for streaming, and transmits data using UDP only, and implements a random path per packet through the network as leaders (block producers) stream their data.


Gulf Stream – Gulf Stream functions by pushing transaction caching and forwarding to the edge of the network allowing validators to execute transactions ahead of time and reduce confirmation times.


Sealevel – Sealevel is used to find all the non-overlapping transactions that occur within a block and run them parallel.


Pipelining – Solana assigns a stream of input data onto different hardwares so that the transaction information is quickly validated and replicated across all nodes in the network efficiently, while keeping the sequence in check.


Cloudbreak – Cloudbreak establishes a data structure where transactions are processed in a software that utilizes every hardware responsible for indexing data.


Archivers – Solana's network allows every node to replicate information from the blockchain according to the space available on their hardware. Archivers download their respective data from validators, and this data is accessible to the network.
👉 Read more here for the full detailed explanation of the Solana core innovations.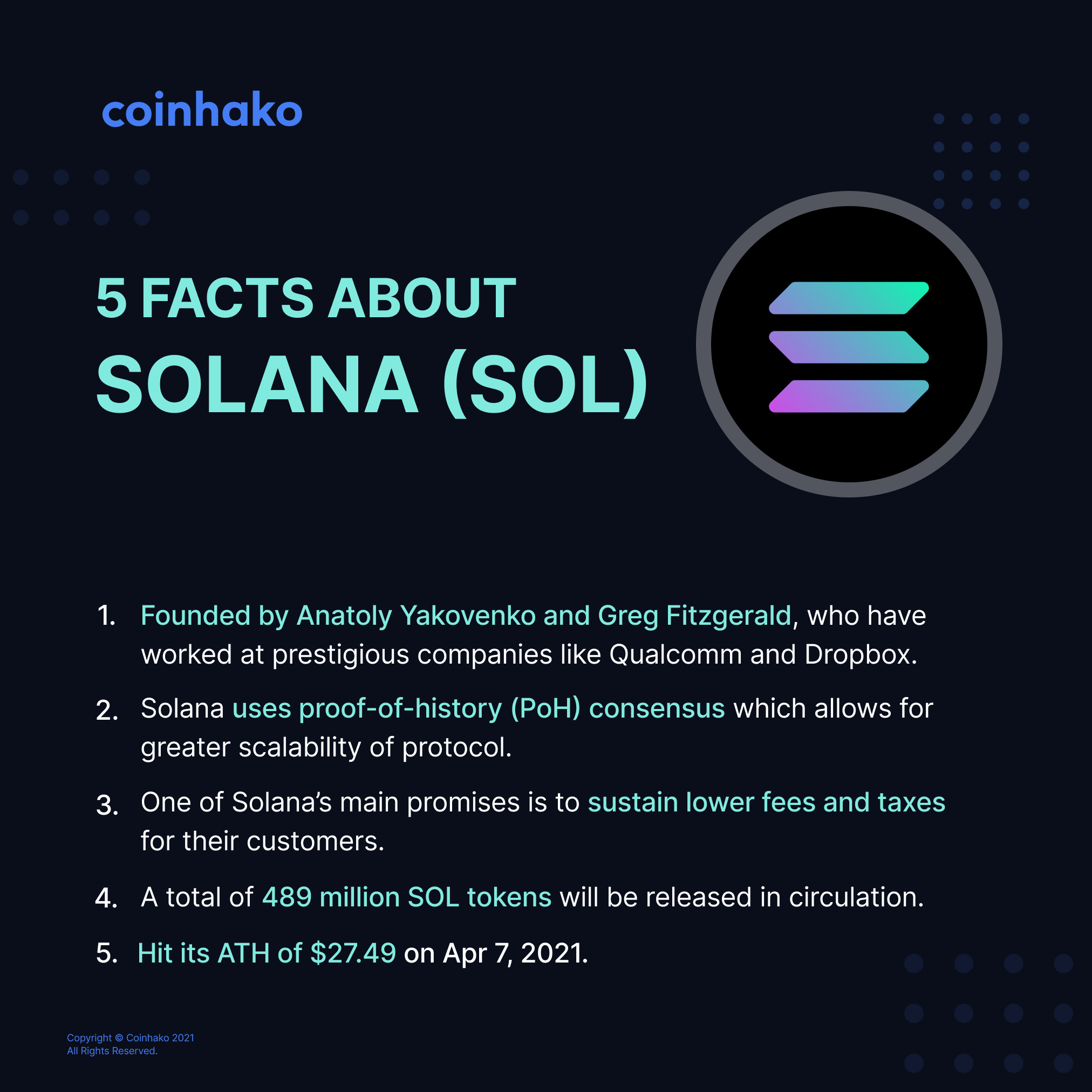 1. Trade SOL directly with Singapore Dollars (SGD) 🇸🇬
With SOL/SGD trading pairs available on Coinhako, our Singapore users will be able to buy & sell Solana in Singapore Dollars (SGD) when they fund their accounts with SGD.
📈 View SOL Token price in SGD now
2. Trade SOL directly with Vietnamese Dong Trading (VNDT) 🇻🇳
With SOL/VND trading pairs available on Coinhako, our Vietnam users will be able to buy & sell Solana when they fund their accounts with VND.
3. Trade SOL directly with US Dollars (USD) 🇺🇸
The SOL/USD trading pair Solana prices against the United States Dollar (USD), and our Singapore users will be able to buy & sell Solana when they fund their accounts with USD.
4. SOL swaps (Crypto-to-crypto trading)
Coinhako users will also be able to trade Solana with other cryptocurrencies that are supported in their countries, with our Swap function.
5. Get the latest SOL coin price news on Coinhako 🚨
As with every other supported token on Coinhako, we endeavour to update our users on key news about each project through our various channels.
The Coinhako platform also features a News Feed section where you will be able to receive all the latest updates on Solana Token, alongside on the other top crypto projects, like uniswap, polkadot, band protocol.
5. Coming SOON: SOL wallet for all
With the wallet feature, Coinhako users can securely send (withdraw), receive (deposit), and store Solana.
6. Buy Solana Token (SOL) instantly with debit and credit card

Beat the deposit queue and buy Solana instantly when you pay by card.
---
📩 Sign-up to Subscribe to our mailing list to have them delivered straight to your inbox!
👉Join our Telegram community
🤔If you have any enquiries, you may contact us here or you can visit our Information Page.
Coinhako is available in these countries!

🚀 Buy Bitcoin at Coinhako Singapore
🚀 Mua Bitcoin Coinhako Vietnam
---
Copyright © Coinhako 2021 All Rights Reserved. Read more on our terms of use of this blog.
All opinions expressed here by Coinhako.com are intended for educational purposes, taken from the research and experiences of the writers of the platform, and should not be taken as investment or financial advice.