What is THETA coin?

THETA is the governance token of the Theta Token network. THETA users can stake THETA to serve as a Validator/Guardian node to produce blocks and participate in the protocol's governance. Currently, there are 1,000,000,000 Theta tokens in circulation.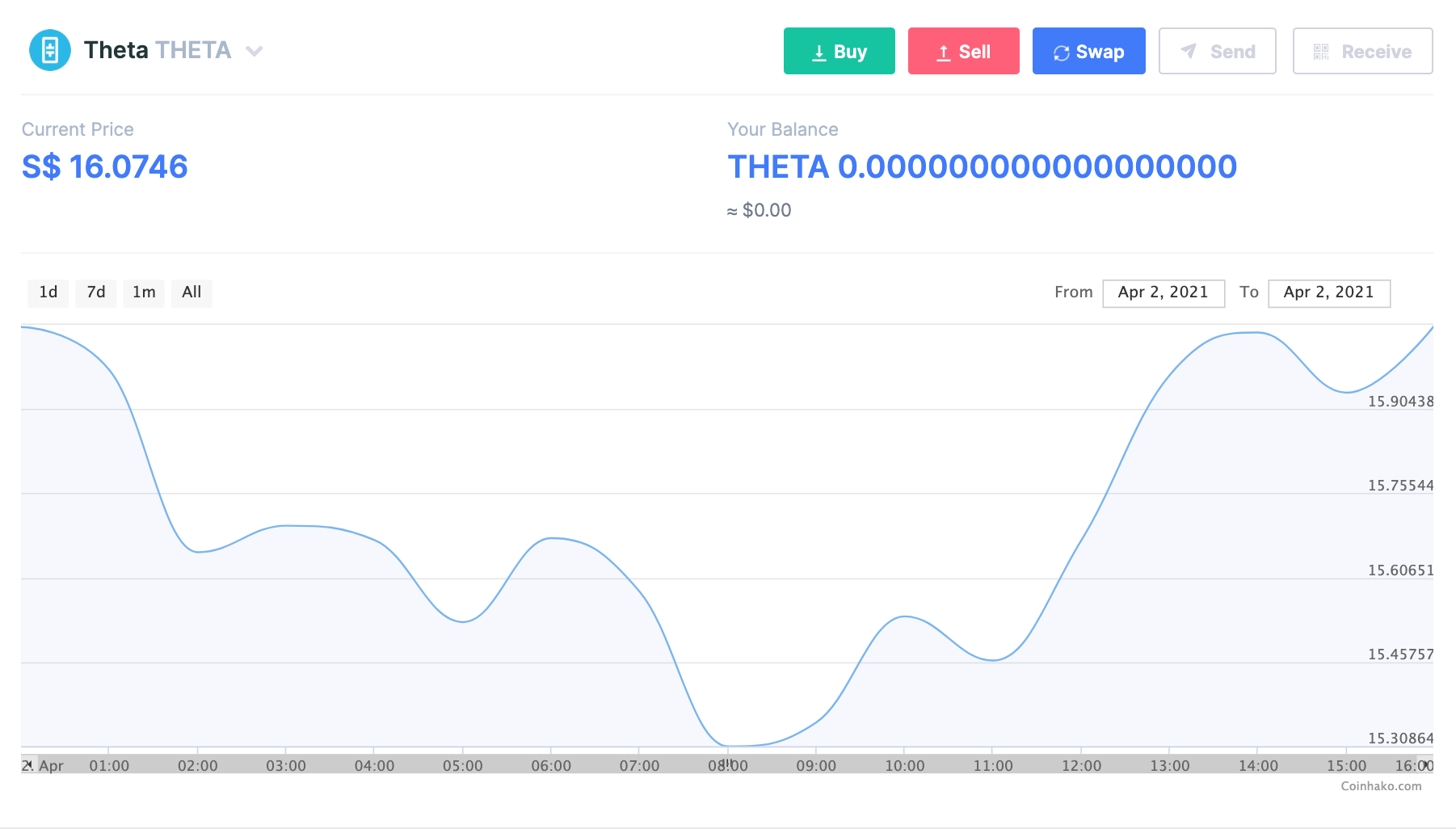 THETA hit its ATH of $14.99 on Mar 24, 2021 and is currently up by almost 500% since the start of 2021. THETA is currently trading at $11.88 USD on Coinhako at the time of writing.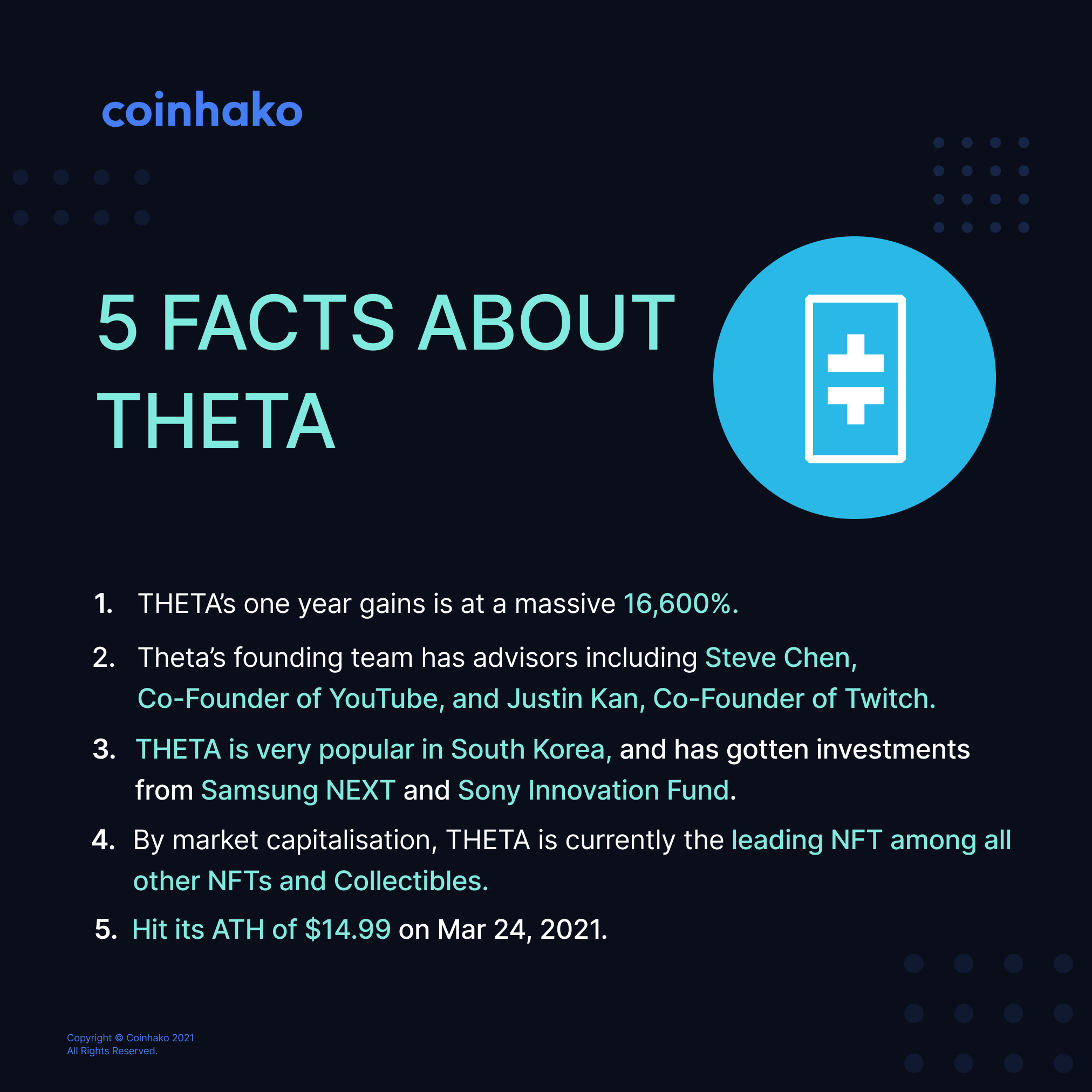 👉 THETA price today

** Kindly note that THETA wallet features are not supported on Coinhako currently.

How Does The THETA Network Work?
Theta is a decentralised streaming network with the ability to support vertical decentralised applications (dApps) on its blockchain.Theta Network runs on a Proof-of-Stake (PoS) consensus algorithm known as Multi-Level Byzantine Fault Tolerance (BFT). This model essentially speeds up approvals and works more efficiently than conventional Proof-of-Work (PoW) networks.


Currently, the Theta network is the only end-to-end infrastructure for decentralised video streaming. THETA.tv, the live streaming platform, was the first to build its DApp on the Theta protocol.

Theta's founding team has a combined experience of more than 30 years , with advisors like Steve Chen, Co-Founder of YouTube, and Justin Kan, Co-Founder of Twitch.

Founded in 2018 by Mitch Liu and Jieyi Long, and powered by its users and a native blockchain, the Theta network seeks to solve issues in the video streaming community. These include poor video quality, high load times in places with slow connection, skyrocketing data needs and inefficient system.
Theta network incentivizes users to participate in the network. The network rewards users in the form of Theta Fuel when they share excess bandwidth and resources, which helps to deliver streams more efficiently anywhere across the world and reduce the cost of delivering video streams.
1. Trade THETA directly with Singapore Dollars (SGD) 🇸🇬
With THETA/SGD trading pairs available on Coinhako, our Singapore users will be able to buy & sell THETA in Singapore Dollars (SGD) when they fund their accounts with SGD.
📈 View Theta Token price in SGD now
2. Trade THETA directly with Vietnamese Dong Trading (VNDT) 🇻🇳
With THETA/VND trading pairs available on Coinhako, our Vietnam users will be able to buy & sell THETA when they fund their accounts with VND.
3. Trade THETA directly with US Dollars (USD) 🇺🇸
The THETA/USD trading pair THETA prices against the United States Dollar (USD), and our Singapore users will be able to buy & sell THETA when they fund their accounts with USD.
4. THETA swaps (Crypto-to-crypto trading)
Coinhako users will also be able to trade THETA with other cryptocurrencies that are supported in their countries, with our Swap function.
5. Get the latest Theta coin price news on Coinhako 🚨
As with every other supported token on Coinhako, we endeavour to update our users on key news about each project through our various channels.
The Coinhako platform also features a News Feed section where you will be able to receive all the latest updates on Theta Token, alongside on the other top crypto projects, like uniswap, polkadot, band protocol.
5. Coming SOON: THETA wallet for all
With the wallet feature, Coinhako users can securely send (withdraw), receive (deposit), and store THETA.
6. Buy Theta Token (THETA) instantly with debit and credit card

Beat the deposit queue and buy THETA instantly when you pay by card.
Buy Theta Token (THETA) in 🇸🇬SGD and 🇺🇸USD now!
---

📩 Sign-up to Subscribe to our mailing list to have them delivered straight to your inbox!
👉Join our Telegram community
🤔If you have any enquiries, you may contact us here or you can visit our Information Page.
Coinhako is available in these countries!

🚀 Buy Bitcoin at Coinhako Singapore
🚀 Mua Bitcoin Coinhako Vietnam
---
Copyright © Coinhako 2021 All Rights Reserved. Read more on our terms of use of this blog.
All opinions expressed here by Coinhako.com are intended for educational purposes, taken from the research and experiences of the writers of the platform, and should not be taken as investment or financial advice.