June 4, 2021

Take a look at some of the top 10 news that have happened in the last 2 weeks.
1.Polygon and AU21 Capital unveil $21M fund to support polygon developers


The $21 million Polygon Ecosystem Fund is designed to provide direct funding for promising projects building on top of Polygon. This fund will offer business development and marketing support, as well as human capital incentives

2.Norton360 antivirus tool will allow its 13 million customers to mine Ethereum

Norton plans to open up the mining service to all of its nearly 13 million in coming months, making NortonLifeLock as one of the first cybersecurity companies to allow users to "safely and easily turn the idle time on their PCs into an opportunity to earn digital currency."
The update will allow users to mine without switching off their antivirus software, and 360 existing users have been invited to participate in Norton's early adopter program for ether mining.

3.Bonsai bonanza as Zenft studio sells out $2million NFT drop in one hour.

Zenft studio released a line of 8,888 unique bonsai NFT plants that sold out in just under an hour. The bonsais have an augmented reality/virtual reality functionality which is a step up from their previous 2D projects.

4.Cardano to launch its first cross chain bridge with link to Nervos

Public chain projects Nervos and Cardano have plans to enable interoperability across their platforms within the next 6 weeks. The upcoming launch will link 2 ecosystems worth billions of dollars in terms of market capitalization, the companies said in a press release.

This is the first bridge for Cardano (ADA), currently valued at $56.3 billion and the market's fourth most valued crypto.

5.ConsenSys throws its weight behind Uniswap DeFi lobbying proposal


Ethereum solutions provider ConsenSys has pledged support for a Uniswap governance proposal to set aside tokens for a new DeFi fund for political lobbying.

The proposal was made by the Harvard Law School Blockchain and FinTech Initiative on 27th May 2021. The proposal suggests the creation of a fund that would finance existing and new political groups engaged in crypto policy-making and lobbying to defend DeFi against regulation.

They cited concerns that governments worldwide may try to regulate DeFi without proper education and suggested a fund of 1 to 1.5 million UNI.

Matt Corva, general legal counsel at ConsenSys stated that educating lawmakers is of critical importance at this juncture. He expressed support for the proposal, calling it "one of the best initiatives to date".
However, consensus is not universal throughout the community as many disagree that a single organization and a few lawyers should decide on behalf of the rest of them.

6.New DeFi 'passport' could enable under-collateralized crypto loans

The launch of DeFi passport Sapphire v3 will allow crypto users to pseudonymously build and verify their reputation on-chain. This will score users on a scale of 0 to 1,000 with Arcx – a DeFi protocol – advancing that the passport "incentivizes reputation-building and curates on-chain identity into DeFi." Without the DeFi passport, users are treated the same, "occasionally giving preferential consideration to wallet size".

Arcz expects its passport to be integrated into many DeFi protocols, predicting Sapphire will allow projects to offer "low-collateral loans and high-yield farms" targeting users with higher scores. Thus, this passport could facilitate growth in emerging sectors of DeFi-powered under-collateralized loans.

7.Bitcoin price slumps $2K on Musk's 'in the end' tweets

After a series of tweets by Elon Musk on 4th June 2021, the Bitcoin price fell from around $38,700 to $37,500 within an hour. Prices of Bitcoin continued plummeting as the series of tweets continues.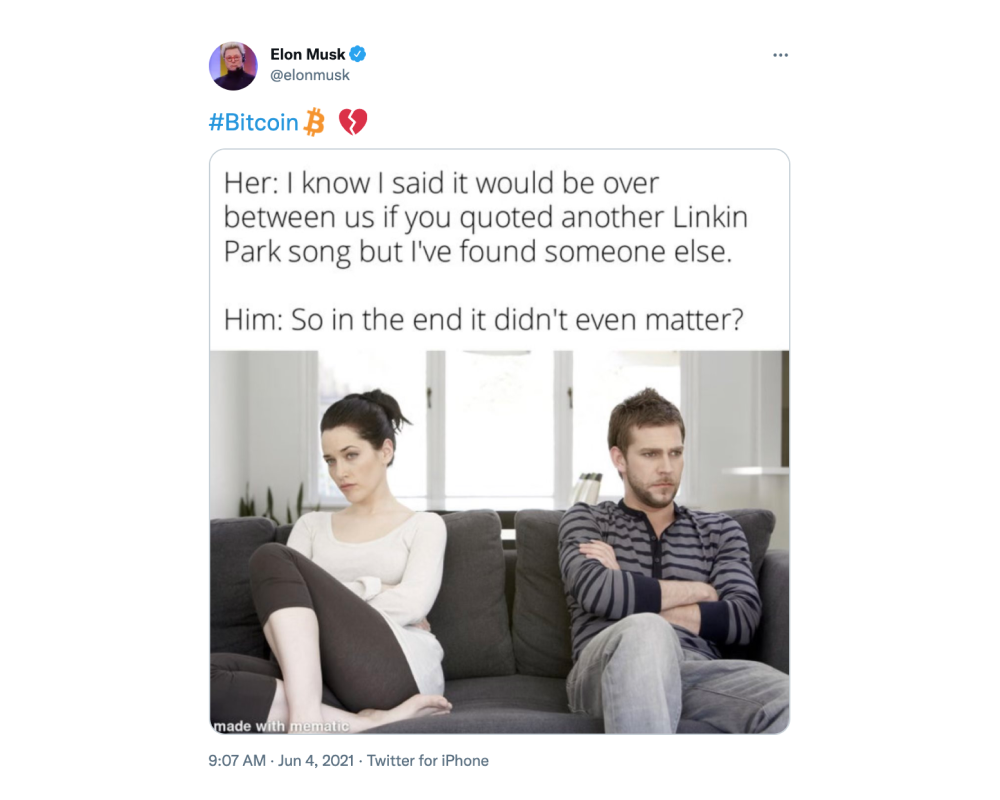 8.Funds locked in AAVE soar past $20B amid layer 2 membrane.
AAVE has surged to the top of the DeFi ranking by total value locked (TVL) amid its recent embrace of layer-two for scaling. According to the AAVE's website, the v2 and Polygon deployments of the popular crypto-powered money market protocol currently represent more than $20B in locked capital in the respective versions.

9.Institutional investors load up ETH with its share of AUM hitting a new record

Institutional demand for Ethereum continues to surge, with Ether products now representing more than one quarter of the assets under management (AUM) of crypto investment products.
According to the 'Digital Asset Fund Flows Weekly' report on 1st June by CoinShares, the past week had significant institutional inflows of $74M as investors sought to capitalize on the fall out from the recent crash. More than 63% of the institutional inflows were injected into Ether products, or $46.8M of the total.

Ether products now represent 27% of the combined AUM for crypto investment products - the highest share yet.
10.Thailand to target DeFi in latest regulatory clampdown
To regulate the cryptocurrency industry, Thailand's financial regulators have turned their sights towards DeFi. According to the Bangkok Post, Thailand's Securities and Exchange Commission (SEC) has announced that any activities related to DeFi may require a license from the financial regulator in near future. The SEC specifically stated it will target DeFi protocols that issue tokens. This came after the launch of the native token for Thai DeFi protocol Tuktuk Finance, the report noted that prices rocketed to "several hundred dollars" before collapsing to $1 within minutes.

---
📩 Sign-up to Subscribe to our mailing list to have them delivered straight to your inbox!
👉Join our Telegram community
🤔If you have any enquiries, you may contact us here or you can visit our Information Page.
Coinhako is available in these countries!

🚀 Buy Bitcoin at Coinhako Singapore
🚀 Mua Bitcoin Coinhako Vietnam
---
Copyright © Coinhako 2021 All Rights Reserved. Read more on our terms of use of this blog.
All opinions expressed here by Coinhako.com are intended for educational purposes, taken from the research and experiences of the writers of the platform, and should not be taken as investment or financial advice.