What is ZEC?

ZEC is the token of the Zcash network. Interestingly, ZEC has the same maximum supply as Bitcoin - capped at 21 million tokens.

Unlike many other tokens, Zcash did not conduct an ICO — yet, it hit its All-Time-High just one day after its release on October 29th, 2016 at $5,941.80 per token. ZEC prices continued to experience high volatility over the years, falling to its lowest prices at $18.94 on March 13, 2020, the same day Bitcoin and several other altcoins suffered a dramatic price plunge.

ZEC prices have recovered since the plunge and are seeing 130% in YTD gains. ZEC is currently trading at $151.78 USD on Coinhako at the time of writing.


**Please note that wallet features for Zcash (ZEC) will not be available due to a need to align with regulatory measures.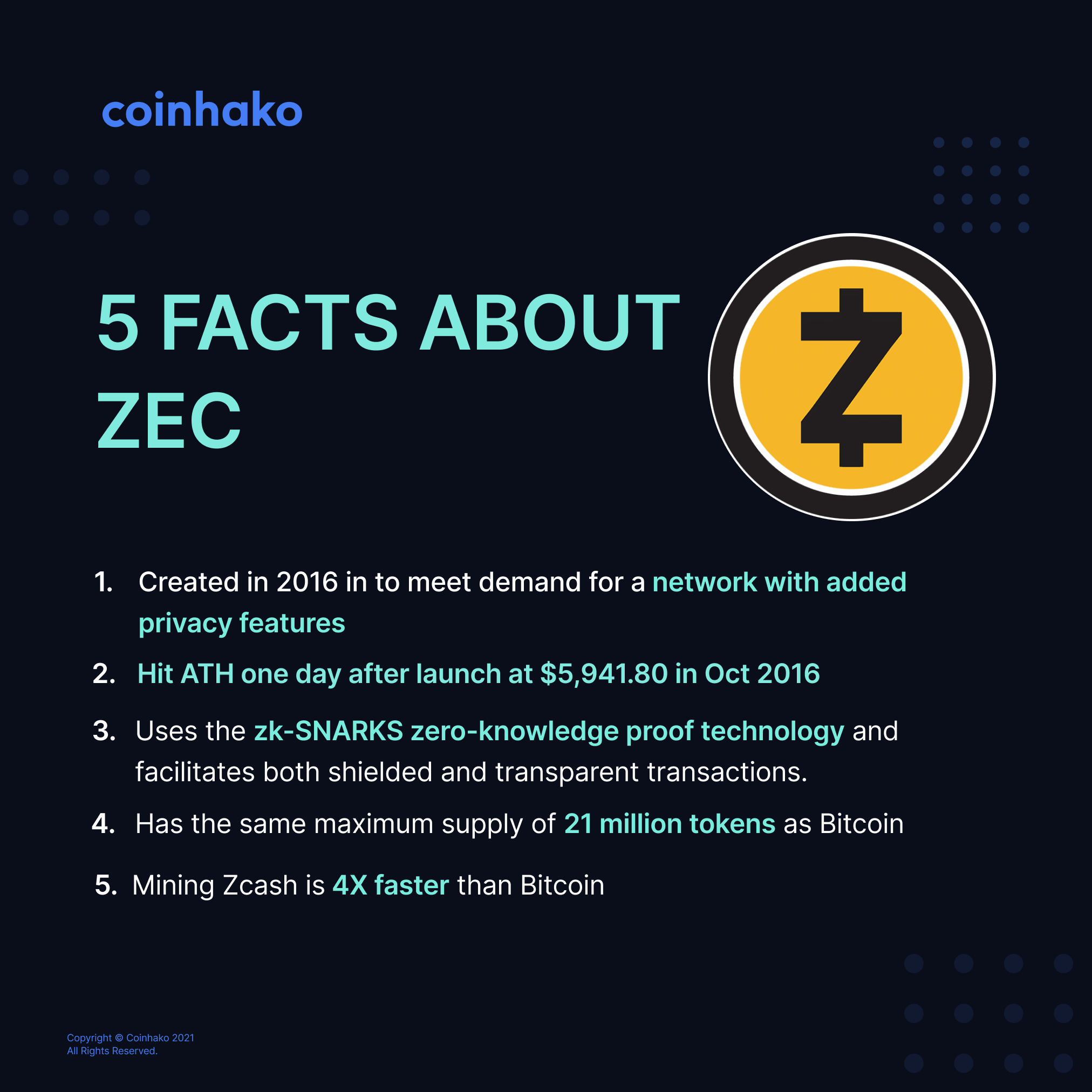 What is Zcash?

Founded in October 2016 by Zooko Wilcox-O'Hearn, a computer security expert and founder of Electronic Coin Company (ECC), Zcash is a decentralised blockchain network that aims to provide anonymity for its users.

Compared to other cryptocurrencies, Zcash is able to maintain greater user privacy via the use of zk-SNARK  ("Zero-Knowledge Succinct Non-Interactive Argument of Knowledge) technology, which enables the verification of transactions on the network, without revealing sensitive information about each transaction.

How does this work?

Unlike its predecessors like Bitcoin and Ethereum, Zcash is one digital currency that offers users a higher level of privacy.

ZEC transactions are either transparent or shielded, and this is made possible by having two types of Zcash addresses - Private (z-addresses) or transparent (t-addresses). Four types of transactions can take place using z-addresses and t-addresses.

A Z-to-Z transaction  — a transaction between private addresses — will be shown on the public blockchain but will not display key information such as the addresses, transaction amount and memo field. Such sensitive information is encrypted via the use of zero-knowledge proofs.

For regulatory or compliance purposes, the owner of a z-addresses may choose to disclose transaction details with trusted third parties.

A T-to-T transaction is more similar to the Bitcoin transactions that many of us are familiar with; the details of the transaction, such as sender and receiver information and transaction value are visible on the public blockchain.

Because z-addresses and t-addresses are interoperable, this enables Z-to-T transactions and vice versa.

1. Trade ZEC directly with Singapore Dollars (SGD) 🇸🇬
With ZEC/SGD trading pairs available on Coinhako, our Singapore users will be able to buy & sell ZEC in Singapore Dollars (SGD) when they fund their accounts with SGD.
📈 View Zcash price in SGD now
2. Trade ZEC directly with Vietnamese Dong Trading (VNDT) 🇻🇳
With ZEC/VND trading pairs available on Coinhako, our Vietnam users will be able to buy & sell ZEC when they fund their accounts with VND.
3. Trade ZEC directly with US Dollars (USD) 🇺🇸
The ZEC/USD trading pair ZEC prices against the United States Dollar (USD), and our Singapore users will be able to buy & sell ZEC when they fund their accounts with USD.

4. ZEC swaps (Crypto-to-crypto trading)
Coinhako users will also be able to trade ZEC with other cryptocurrencies that are supported in their countries, with our Swap function.

5. Get the latest Zcash price news on Coinhako 🚨
As with every other supported token on Coinhako, we endeavour to update our users on key news about each project through our various channels.
The Coinhako platform also features a News Feed section where you will be able to receive all the latest updates on Zcash, alongside on the other top crypto projects, like uniswap, polkadot, band protocol.

How to buy Zcash in Singapore?

---
📩 Sign-up to Subscribe to our mailing list to have them delivered straight to your inbox!
👉Join our Telegram community
🤔If you have any enquiries, you may contact us here or you can visit our Information Page.
Coinhako is available in these countries!

🚀 Buy Bitcoin at Coinhako Singapore
🚀 Mua Bitcoin Coinhako Vietnam
---
Copyright © Coinhako 2021 All Rights Reserved. Read more on our terms of use of this blog.
All opinions expressed here by Coinhako.com are intended for educational purposes, taken from the research and experiences of the writers of the platform, and should not be taken as investment or financial advice.