As the regional blockchain regulatory landscape starts to take shape, we will be taking steps as part of our transition into this exciting and new phase of the industry.
Here are changes to expect over the next few months:
1. Improved Know-your-customer (KYC) processes
KYC is an important feature in the prevention of money-laundering and financing of terrorism. At Coinhako, we require our users to submit documents for personal identification to help safeguard the market gateways.
We will be making regular reviews and updates to our KYC processes to ensure that it is in accordance with the latest Anti-money laundering (AML) and Combating of Financial Terrorism (CFT) guidelines.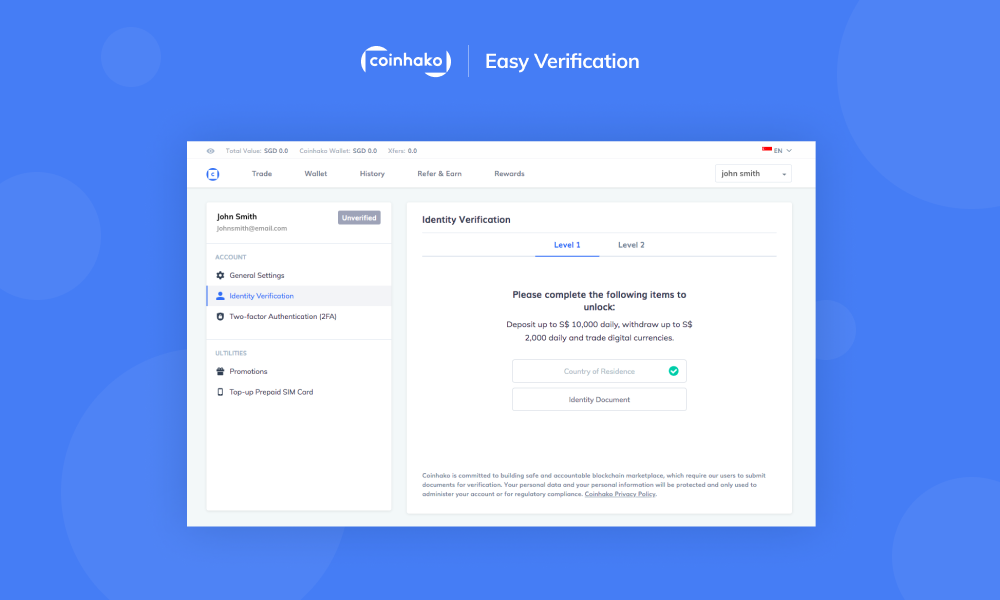 We are also focused on keeping KYC quick and effortless for you! As part of our latest User Interface (UI) update we have streamlined our KYC flow as well as improved on interactivity, as we gear up for further updates.
What happens to the data that you submit on Coinhako?
Security of your funds, data as well as privacy are of utmost importance here at Coinhako. All submitted information will be used for the purpose of complying with regulations that govern our various markets.
For more information about how we safeguard your privacy, you can visit our Privacy Policy Page.
What are the benefits for users?
To put things simply, the more you share the more you get to enjoy!
Coinhako user accounts are awarded different account levels for the successful submission of personal documents. With every level that you have completed, you unlock an added benefit and get to enjoy enhanced services.
🚀For more information, you can visit here.
🚀Still using unverified account? Complete our identity verification now at Coinhako.com!
2. Top of the class token listings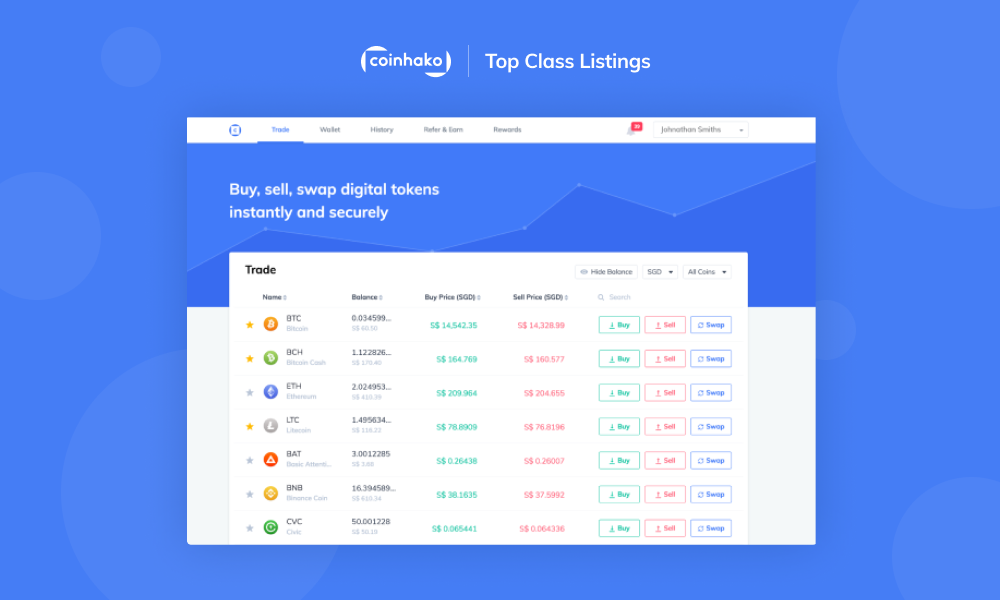 We will be making regular reviews and updates to our requirements of new tokens additions, as we look to align with the latest AML/CFT guidelines - as well as any other regulatory policies - and provide access to the best blockchain projects in the space for you!
3. New Products
We have more product updates to support the upcoming changes as well as improve your Coinhako experience!
*The information presented on this article does not constitute as investment advice and is purely for educational and/or informational purposes.
---
👉Join our Telegram community
🤔If you have any enquiries, you may contact us here or you can visit our Information Page.
New to Coinhako?
Did you know you can buy Bitcoin (BTC) and cryptocurrencies with Coinhako in these countries?
🚀Mua Bitcoin Vietnamese Dong (VND) Coinhako Vietnam
🚀Jual Beli Bitcoin Indonesian Rupiah (IDR) Coinhako Indonesia